(English text below)
Afgelopen donderdagavond opende in de Brusselse galerij van Design Vlaanderen (Kanselarijstraat) de tentoonstelling 'Nieuwe Oogst 2010'. Het is een jaarlijkse terugkerend evenement, waarbij alle ontwerpers die in een bepaald jaar door Design Vlaanderen werden erkend, en dus ook dit label mogen dragen, samen tentoonstellen in de galerij van de organisatie.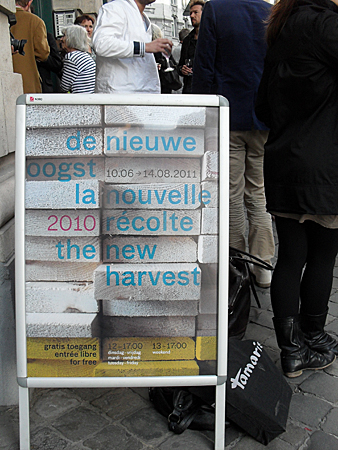 Samen met Ingrid Adriaenssens (eveneens een Design Vlaanderen erkende edelsmid) naar Brussel gespoord, voor een lekkere receptie en veel visueel genot.
(Els Jacobs, Ria Lins en Ingrid Adriaenssens)
Naast grafisch ontwerp, productontwikkeling, meubelontwerp,  … bleef ik vooral rondhangen bij textiel en juwelen (die zijn te vinden in de kelderverdieping).
Twee 'coup de foudre's:
Textielontwerpster Els Jacobs  van Some-thing-els, kwam hier eerder aan bod. Haar bijzonder mooie gebreide sjaals kan je ook zien in haar winkel in Gent. Meer info op haar website.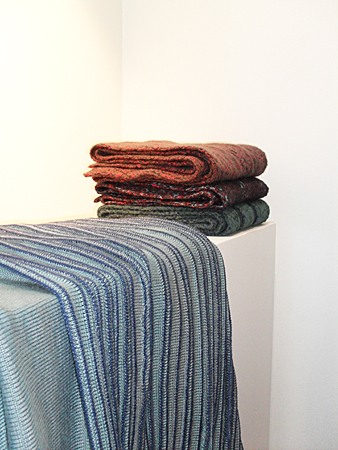 Een ontdekking voor mij: Ria Lins. Textiele technieken met zilverdraad … héél mooi. Ook het aanvoelen ervan is bijzonder: een sensatie-oneel spel van gewicht en soepelheid. Ria Lins' website vind je hier.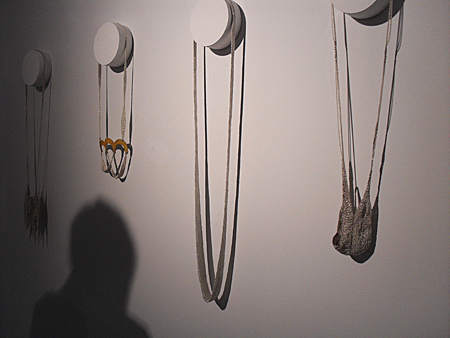 De tentoonstelling 'Nieuwe Oogst 2010' is nog te bekijken tot 14 augustus 2011. De galerij bevindt zich in de onmiddellijke omgeving van het Centraal Station.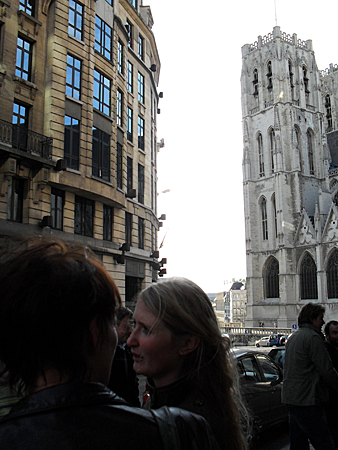 Nog twee interessantie madammen, gezien op de Kunstsuperette in Gent afgelopen weekend: Lotte Martens (textile with a concept) en Hanne Beutels (originele, mooie handtassen).
Last Thursday opened in Brussels the exhibition ' The new harvest 2010′. It's the yearly presentation of designers that have been recognized by Design Vlaanderen.
Please have a look a the website of the following ladies whose work I particularly liked:
Els Jacobs: beautiful knitted scarfs
Ria Lins: silver jewellery in textile techniques.
Two more interesting ladies, whose work I saw last weekend in my hometown Gent during the Kunstsuperette:
Hanne Beutels: leather handbags ans
Lotte Martens: original textile applications.
Enjoy the work of all these talented ladies!