(English text below)
"Improving the urban landscape one stitch at a time …"

Het moet goed anderhalf jaar geleden zijn dat ik de eerste keer foto's zag van 'yarn bombing' installaties.
Twee weken geleden, in Utrecht, zag ik voor de eerste keer een 'echte'.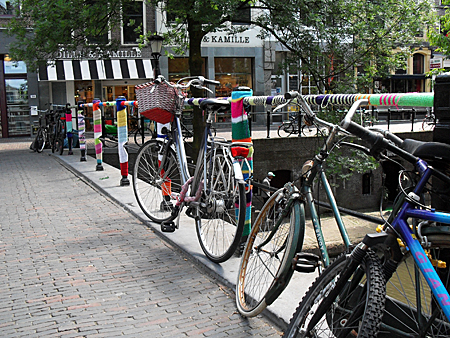 En zoals dat dan gaat met hypes en trends, zie je plots overal het fenomeen verschijnen. Dit weekend in mijn favoriete krant De Morgen een hele pagina 'Graffiti met breinaalden'. Je kan het artikel hier nog eens lezen of ga naar de online krant van zaterdag 4 juni 2011.
'Yarn bombing' (Nederlandse term van Francine Oomen: wildbreien) is simpel gezegd: gebreide graffiti. Het is een wereldwijd fenomeen geworden (USA, met New York, loopt uiteraard vooraan), maar ook Hasselt is in de ban. Daar is een grote groep vrouwen druk doende een yarn bombing voor te bereiden n.a.v het Creativity World Forum dat er  in november doorgaat. Mocht ik in Hasselt wonen …
Yarn bombing maakt mensen vrolijk, is niet agressief, brengt letterlijk en figuurlijk kleur in de stad, brengt mensen samen, is humoristisch …
Wat ik erover lees, verwijst vaak naar breien en niet naar haken. Maar in wat ik er over zie, duikt haakwerk net zo vaak op als breiwerk. Foto's van het haakwerk van Agatha Olek gaan al langer mee op tour om aan mijn workshopdeelnemers te tonen. De Poolse Agatha Olek (woont in new York) is een haakartieste , die door velen als een ster onder de yarn bombers wordt beschouwd, maar die zich zelf niet inschrijft in het 'yarn bombing'-gebeuren. Zij ziet haar werk als kunst. Je kan haar werk en haar visie daaromtrent op Facebook volgen, onder de naam Crocheted Olek.
Op 11 juni is het International Yarn Bombing Day … waar zullen ze opduiken ????
Hier vind je de gegevens van het trendsettende boek van Mandy Moore en Leanne Prain 'Yarn Bombing: the book'. Je vindt vanaf nu ook de link naar de blog over wildbreien deze dames  in mijn blogroll, onder de rubriek 'Textile princesses'.
I've  seen 'yarn bombing' pictures for the first time almost one and a half year ago. I saw my first real one two week ago, in Utrecht (Netherlands). And now I see the phenomenon everywhere.
In this (Dutch) article you can read more on the history of 'yarn bombing' and an upcoming project in Hasselt this coming November.

You can find more data on Many Moore and Leanne Prain's 'Yarn Bombing: the book' here. I also added today the link to their blog in my blogroll (see 'yarnbombing' under 'textile princesses').
An artist that some consider as a yarn bomber (but she herself dislikes to be part of  this scene) is the Polish Agatha Olek. Click on her name to learn more about her and her work. You can also follow her work and vision on Facebook under Crocheted Olek.

June 11th: International Yarn Bombing Day !!!!