(English text below)
In oktober 2009 (Stiel en Stijl, Leuven) kreeg ik bezoek van een stafmedewerkster van de KVLV, of ik het zag zitten om op 21 mei 2011 workshops te geven in Leuven. Dat was nog nooit gebeurd, 19 maanden op voorhand al een afspraak!
Tijd gaat (te) snel …nu zaterdag is het al 21 mei 2011. Héél Leuven viert feest: de KVLV bestaat 100 jaar!'Eeuwige passie' is het motto van deze dag. Er is een indrukwekkend programma uitgebouwd en iedereen is er welkom. Klik hier voor de website van dit feest, je vindt er alle nodige informatie.
Het is de bedoeling dat ik er vier keer een workshop begeleid, telkens voor een groep van 15 vrouwen. Goed anderhalf uur dus om iets aan te leren. Ik heb genoeg tijd gehad om hierover na te denken en veel materiaal in huis te halen.
Dit is het geworden:
De fase van het materiaal uitzoeken heb ik zelf al gedaan (ik vrees dat 15 dames materiaal laten uitzoeken te veel tijd zou afsnoepen van de workshop zelf 😉 ). Elk zal kunnen kiezen uit een zakje met een tiental kralen, drie houten kralen die we zullen overtrekken met haakwerk, twee bobijntjes cordonnet en een eindje waxtouw om het snoer te rijgen.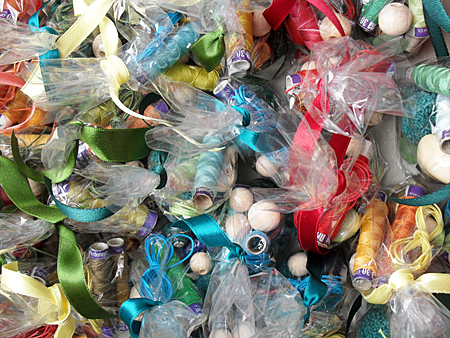 't Ziet er net uit of ik geboortezakjes met suikerbonen heb gevuld … en geen enkel is hetzelfde!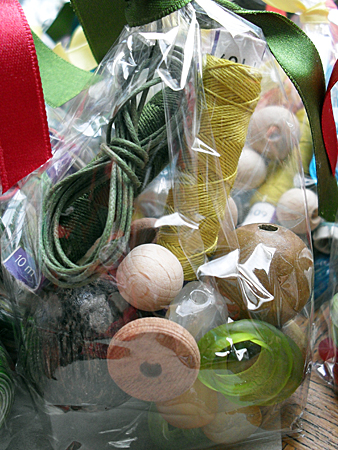 –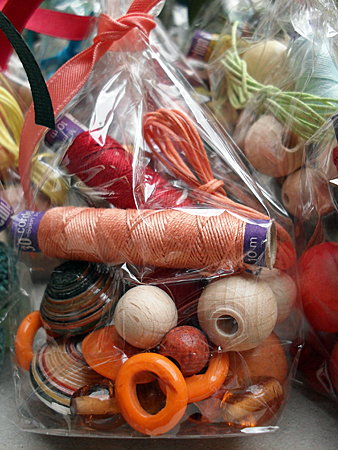 En dit is waar we zouden moeten eindigen, één van de vele mogelijkheden:
It was as far away as October 2009 that I was invited to give workshops on this coming  May 21st. An important organization of women, KVLV (originally it was a  farmer's women orrganization, and it is still more popular in the countryside than in cities) celebrates its  100th anniversary. The event takes place this coming Saturday in Leuven, click here for all information.
I intend to give four workshops ,every two hours a new group of 15 ladies. As I'm afraid that letting the ladies picking outthe material they want to work with,  would take too much time, I decided to take that part on me.
I've made almost a hundred little bags containing some ten beads, three wooden beads which we will cover with crochet work, two bobbins of cordonnet in matching colours and a wax cord. Hope the ladies will like the workhop!