(English text below)
De tentoonstelling is Latem is opgeruimd…
Het was goed! Ik besef nu ook wel dat deze blog weg degelijk wordt gelezen. Dank aan iedereen die een kijkje kwam nemen!!
En vooral dank aan Michèle en Frank van Casa93.  Het was niet enkel de zon die voor een warme ontvangst zorgde…
Ik kan geen mooier beeld dat dit kiezen om deze tentoonstelling af te sluiten. Keramiste Veerle Van Overloop (Foudefeu) die haar dochter leert haken, op de zonnige zondagnamiddag van onze finissage.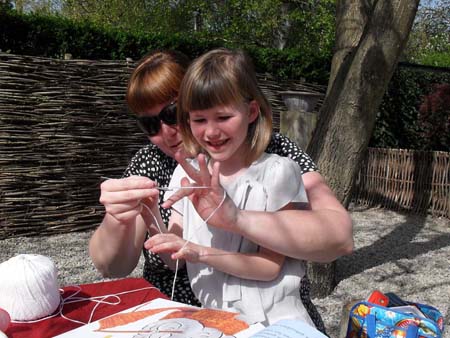 The exhibition in Sint Martens Latem is finished. I want to thank everybody that came along to see our show.
My special thanks to Michèle and Frank of Casa93, they were great hosts!

The picture shows ceramist Veerle Van Overloop (Foudefeu) teaching her daughter to crochet.