(English text below)
Je op internet bekend maken heeft nadelen (copycats) maar ook vooral voordelen: ik krijg bij voorbeeld soms een gouden  tip van een lezer ivm garens die ik zou kunnen gebruiken.
Zo kreeg ik via – ik weet niet meer wie het precies was : Zsazsazsu? of Yarnlot? – het bericht dat er in Berchem (Antwerpen) een nieuwe winkel was geopend: Lena en Zaza.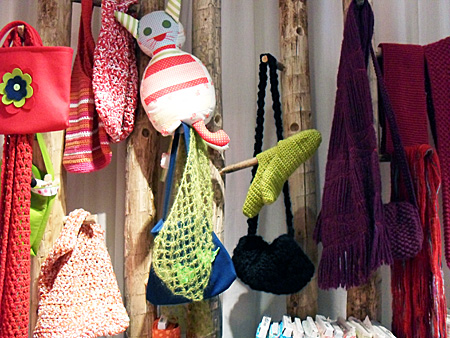 Lena en Zaza , 'tegendraadse wol en stoffen' (wat een heerlijk motto!),  is sinds oktober 2009 gevestigd in de buurt van het station van Berchem. Ik had mij reeds per mail bekend gemaakt bij mijn voornaamgenote Veerle VR en deze voormiddag trok ik er naartoe.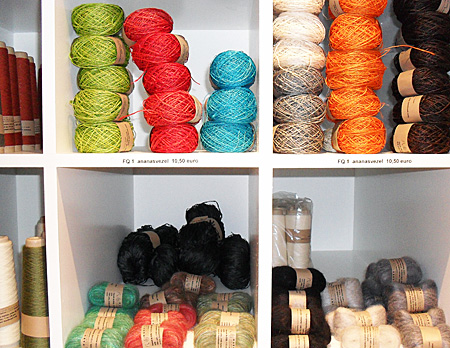 Het was wat te druk in de winkel voor een lange babbel, maar 't was wel leuk. Veerle VR kiest echt voor een origneel, buiten-gewoon aanbod van hele mooie garens. O.a. haar lectuur van mijn blog over mijn permanente zoektocht naar bijzondere zijden garens in kleine hoeveelheden, hebben haar de stap doen zetten naar een eigen winkel. Het is overigens, bij mijn weten, de enige winkel in België waar Habu-garens te koop zijn.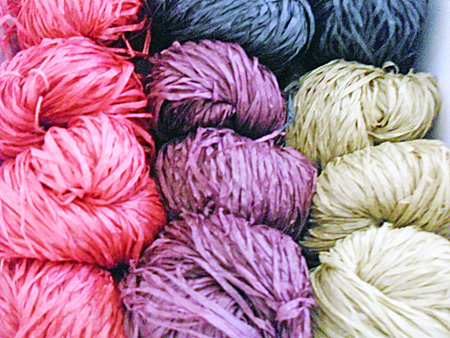 Voor wie op zoek is naar authentieke, natuurlijke  garens (zijde, wol, linnen, papier, bamboe … soms zelfs handgesponnen en/of handgeverfd) :  check hier de website van Lena en Zaza. Ik heb er alleszins mijn haakhartje opgehaald.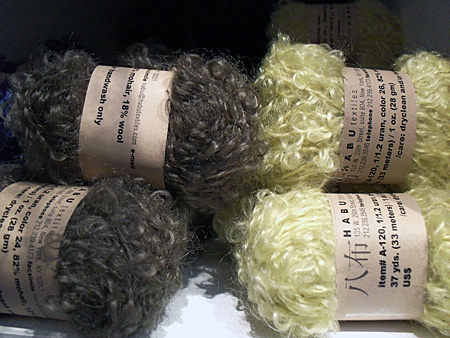 Voor brei-en haakfanaten, is een bezoek aan Lena en Zaza  een verplaatsing meer dan waard. Veerle VR vertelde dat ze zelfs een klant uit Parijs had gehad, voor wie de verplaatsing naar Berchem dichter was dan een verplaatsing naar Montpellier (waar ook Habu te koop is). Zo zie je maar dat je je met passie en authenticiteit nog kan profileren in tijden van crisis en internet.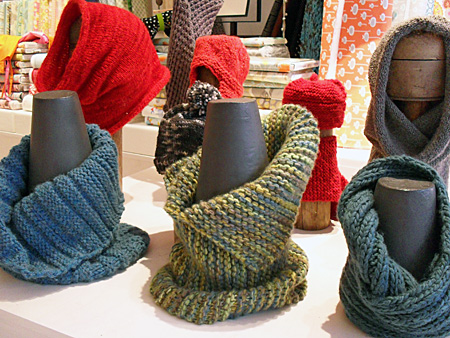 Ik kom er alvast nog terug.
Voor wie partner of kinderen wil meenemen: vlak in de buurt is er ook nog De kleine prins (een boekhandel met een mooi aanbod), Alex (stripwinkel), Kikker en Ko (toffe speelgoedwinkel) en de prachtige Cogels Osylei!
En nu kruip ik weer in mijn atelier … mmmmm, inspiratie te over met de nieuwe garens!
Maandag spoor ik overigens weer richting Antwerpen, voor alweer een plezante creatieve dag …
This blog is about a new yarn shop in Antwerp:' Lena and Zasa'. It's very close to Berchem railway station, so even if you don't drive a car (like me) it's easy to get there.  Click here to go to the website of the shop, so you can see what original and authentic yarns they sell.