(English text below)
Afrika is hier al een paar weken 'hot' in huis. Zoon (mijn fotograaf) had een paar weken geleden aangekondigd dat hij met iemand, overland, zou meereizen naar Mali. Balancerend tussen bezorgd zijn en steunen, had ik hem toch  ook al wat wegwijs gemaakt in het kralenaanbod van Mali;-)
Gisteren is beslist van niet overland naar Mali te reizen wegens te onveilig in West-Afrika (onlusten in Tunesië en Algerije, Franse gijzelaars in Niger, betwiste verkiezingen in Ivoorkust, …). Zoon ontgoocheld … maar er volgt wel een nieuw avontuurlijk plan.
Ook de tentoonstelling van Mariemoo! en mij komt dichterbij. Ik heb vandaag zelfs al de drank voor de vernissage in Gent besteld 😉
Er moet nog een bruidsjuweel worden afgewerkt (zoals in elke 'echte' modeshow, zal het laatste werk voor de bruid zijn 😉 En zo tussen alle andere activiteiten door, blijf ik zin hebben in juwelen met een Afrikaans accentje.
Dit snoer bij voorbeeld.
Je kan het als choker dragen,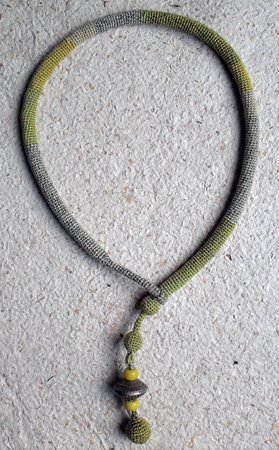 of iets langer.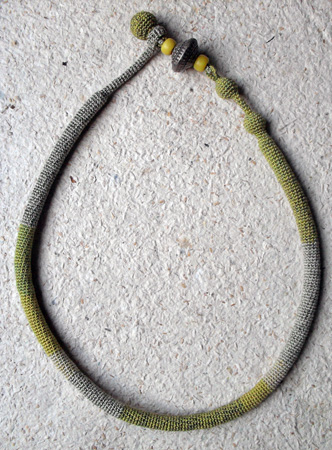 Je kan het kraleneinde als slotje achteraan dragen,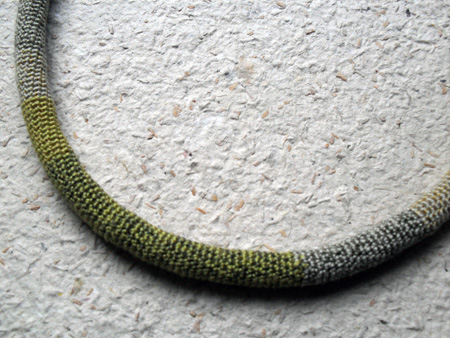 of juist als accent vooraan.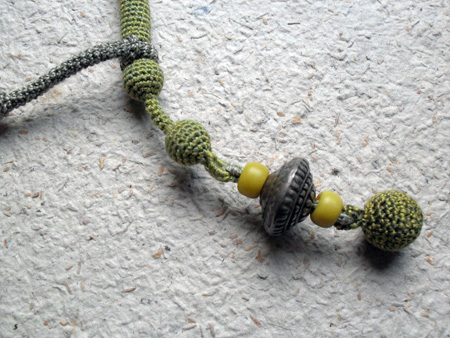 Africa has been 'hot' in our home the previous weeks. Our son (my photographer) announced us three weeks ago that he wanted to go overland to Mali, joining someone who planned to see friends there; yesterday they decided to cancel this plan, because it is not safe in West-Africa (Tunesia, Algeria, Niger, ….). I admit, I was worried, but I also had started introducing to him the world of Mali beads 😉
He's disappointed, but he surely will make new adventurous plans!
In the meantime the preparations for the Mariemoo!/Nevousinstallezpas exhibition in May, continue! I'm still workin on a bridal necklace (like in all fashion shows).
I guess, this African inspiration will never leave me entirely, as you can see on the above pictures.