(English text below)
Nee, nee, ik breng geen naaktkalender op de markt voor 'het goede doel' 😉 'k Vond dit vooral een plezante intro om jullie een kijkje te gunnen in mijn agenda van de komende maanden. Alles wat hieronder is aangestipt, heeft te maken met mijn haakpassie …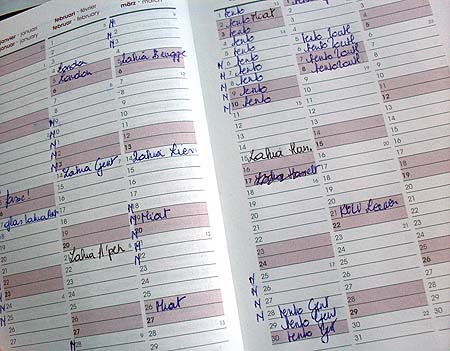 Zal ik eens beginnen met de reeks workshops die door Zahia zijn geprogrammeerd? Leuke uitnodiging was dat: kunnen we eens niet iets samen doen? Ja dus, graag!
Je vindt alle mogelijke informatie over de geplande workshops op de website van Zahia. Hier klikken en je komt rechtstreeks bij de workshop 'Een choker ontwerpen met gehaakte en etnische kralen' terecht. De workshop gaat door in alle vijf de Zahia-winkels (Gent, Antwerpen, Hasselt, Lier en Brugge).
Ik mocht vandaag in Zahia Gent gaan shoppen om chokers te maken, die dan in de diverse winkels zullen terecht komen als voorbeeld.
Niet alle kralen uit het Zahia-aanbod zijn geschikt (de boring moet vooral groot genoeg zijn om over de choker te schuiven), maar er zijn er meer dan genoeg die dat wel zijn.
Snuisteren in de bakken met vintage Murano-glas: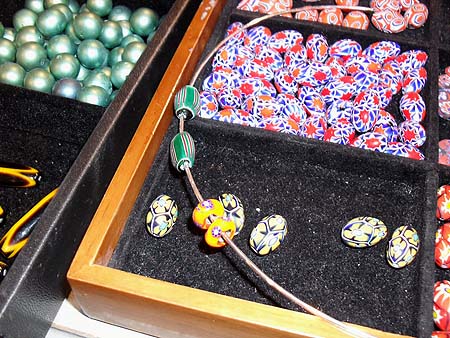 en in mijn favoriete bakken met etnische kralen: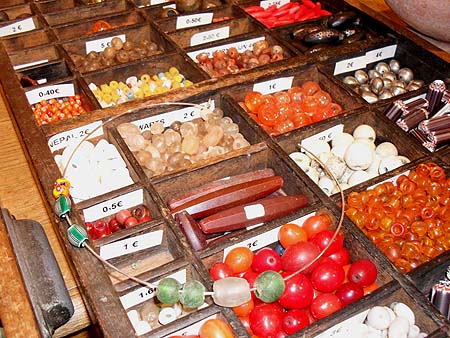 We zullen de workshop beginnen met het uitkiezen van de kralen, dat was wat ik vandaag ook deed:
– vintage Muranoglas, verzilverde kraal en glazen etnische kralen: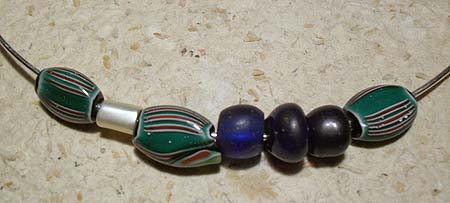 – twee vintage Muranoglas kralen en glazen etnische kralen: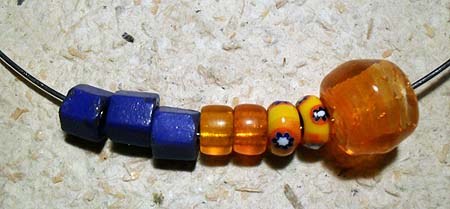 – etnische kralen van gerecycleerd glas en oude witte glazen kralen: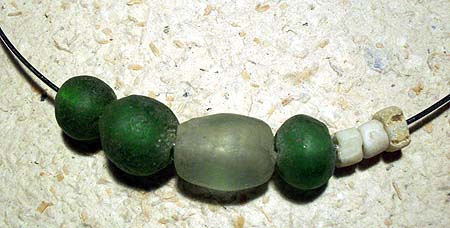 – hele leuke groen/gele glazen kralen (in de winkel UFO' s genoemd ;-)), een verzilverde kraal en etnische glazen kralen: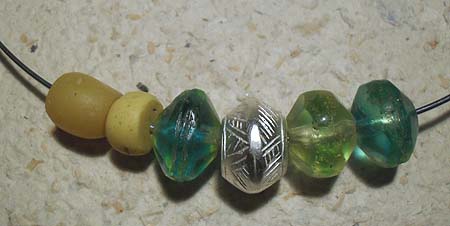 Ik hoop tegen zaterdag afgewerkte chokers te kunnen laten zien. Gent, Lier, Hasselt, Antwerpen en Brugge, here I come ! ;-)))
This blogpost is about a series of workshops I'm going to give in my favourite beadshop Zahia. We're going to combine the lovely beads of the shop with crocheted beads.
Above you see what I choose in the shop to make some examples.
If you might be interested , you can find all practical information on the Zahia website, click here.

I'm really looking forward to it!