(English text below)
Zo gaat het soms in het leven: e-mail volledig geblokkeerd, poging doen om het adressenboek te importeren in ander e-mailprogramma, stom genoeg het adressenboek per ongeluk verwijderen, alle adressen overtikken, …
En dan – met vele uren vertraging – toch deze uitnodiging kunnen versturen: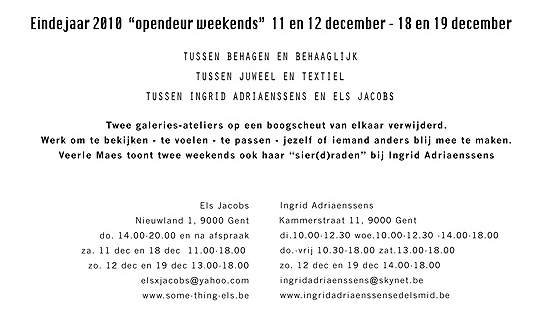 Iedereen is van harte welkom!!
Ik zal zelf aanwezig zijn in het atelier van Ingrid op zaterdag 11 en 18 december van 16uur tot 18uur en op zondag 12 en 19 december van 14uur tot 18uur.
Een heerlijk vooruitzicht, deze twee weekends. Ik kan je verzekeren: er wordt door de drie vrouwen hard gewerkt. En we hebben er absoluut zin in!!
Zoals beloofd, alle volgende dagen foto's van nieuw werk. 't Is wel met wat vertraging, maar passons. Hier zijn de eerste.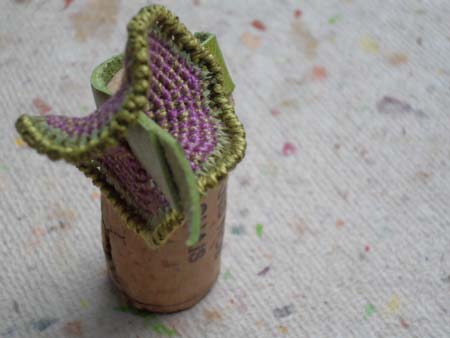 Dit ontwerp is ontstaan na lang overwegen hoe ik de elasticiteit van mijn zijden haakwerk kom omzeilen.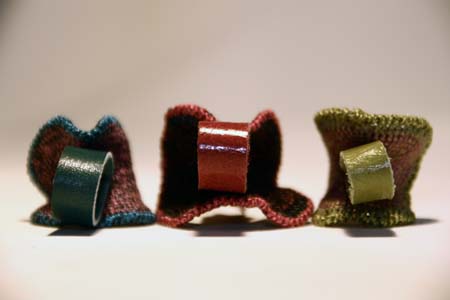 Met leren bandjes bij voorbeeld. 't Is heel leuk werken. Eens het idee van dat leer in mijn hoofd zat, kropen de ontwerpen er één voor één uit.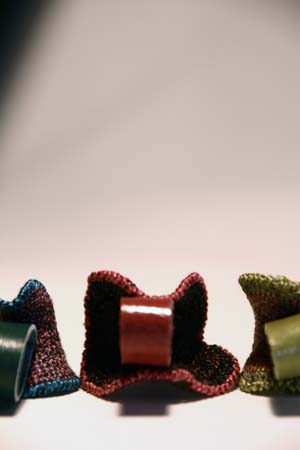 –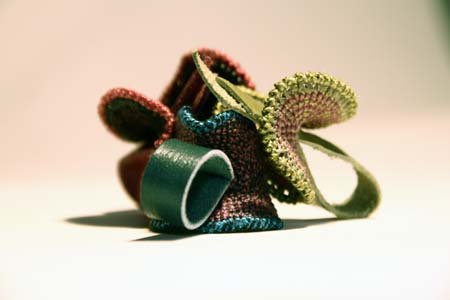 –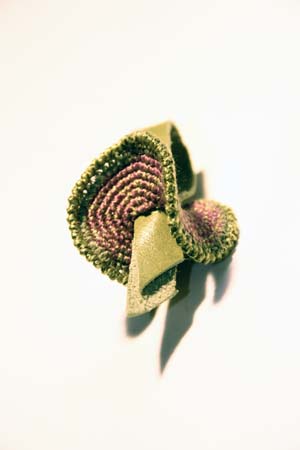 I had  some major e-mail problems the previous days. so, that 's why I only start today showing pictures of my newest work.
Above you see a new ring design. The ring itself is in leather. So , that is a solution to the elasticity of silk crochetwork.
More designs tomorrow (I hope ;-))