(English text below)
Het moest er van komen, het was voorspeld: de reis naar Ecuador zou mij inspireren … Uiteraard gebeurde dit, maar niet in de richting die ik had verwacht.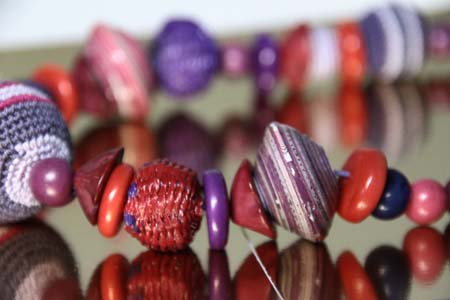 Ja, er waren ontzettend veel kleuren, heel fel, mooi voor foto's … maar zelfs voor mij, kleurenmadame, te fel. De kleuren die ik er zag in kledij en ander textiel waren de typische felle kleuren van synthetische draden. Weinig echte wol of katoen gezien.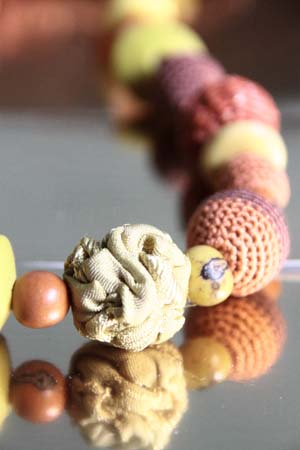 Even nog iets voorafgaand: een paar maanden geleden voelde ik de behoefte aan een nieuw 'project'. Steeds meer gefascineerd door bijzondere en handgemaakte kralen, was ik begonnen met die te zoeken en aan te kopen … met de bedoeling ze misschien, ooit (of nooit) te koop aan te bieden. Het op zoek gaan naar die unieke kralen is wel leuk, maar geeft mij niet de creatieve voldoening die ik had verwacht.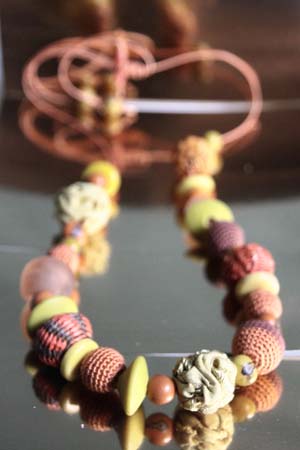 En zo'n 10.000km van hier, scheen toch het licht. Een nieuwe collectie halssnoeren, 'Voyage au bout du monde': Snoeren met mijn eigen gehaakte of stoffen zijden kralen, dat spreekt voor zich. Verder aangevuld met kralen van over de hele wereld.
Er zijn er al een paar klaar.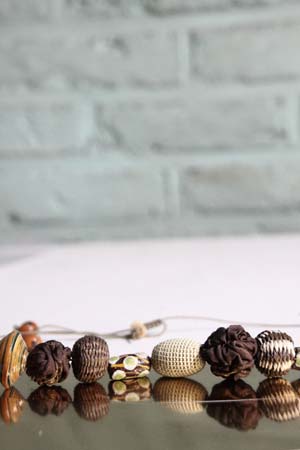 En Ecuador speelt nog meer: per snoer dat ik hiervan verkoop, gaat 10 euro naar de vzw Vroedvrouwen voor Ecuador. Martine, één van de oprichtsters van deze vzw, hebben wij leren kennen in Guayaquil. Zij is diegene die Ayla en Kaat heeft begeleid bij hun stage op de verlosafdeling van het ziekenhuis van Guayaquil. En het is Martine's droom en ambitie om in de sloppenwijken van Guayaquil een centrum voor prenatale consultatie op te starten. En daar zijn centjes voor nodig!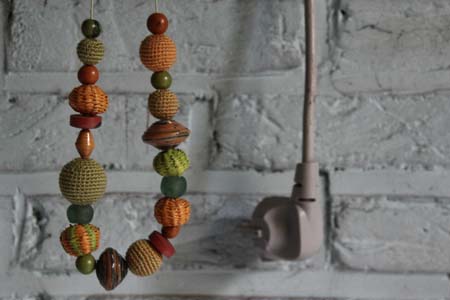 Vandaar dus.
Op de website van Vroedvrouwen voor Ecuador (in het Nederlands en in het Spaans), vind je alle info. Dit is het adres van de site http://vvevzw.webklik.nl/page/home . Je vindt Vroedvrouwen voor Ecuador ook op Facebook.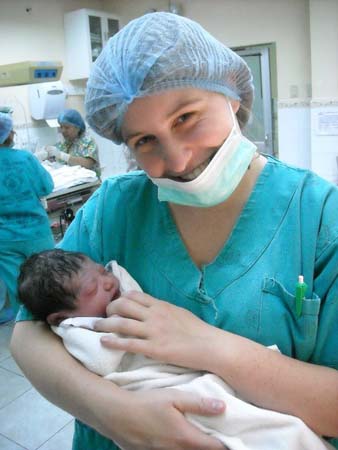 Op de foto hierboven: dochterlief met een Ecuadoriaanse baby die ze op de wereld hielp. Er is daar deze week trouwens een meisje geboren dat van haar mama de naam Ayla-Kaat heeft gekregen, mooi hé!!
De vaste ingrediënten in deze reeks snoeren zijn: mijn eigen zijden kralen en de kralen uit Ecuador. Elk snoer krijgt een soort van inventaris mee, met de opsomming van de andere kralen die er eveneens deel van uitmaken (voor zover ik de afkomst zelf ken). Hieronder een blik op de (steeds wisselende) inventaris: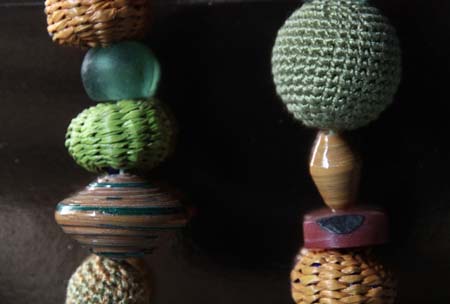 O papier (Oeganda, fair trade)
O glas (India)
O tagua (Ecuador)
O gerecycleerd glas (Ghana, fair trade)
O krobo (Ghana, fair trade)
O bananenvezel (Oeganda, fair trade)
O acai-zaden (Ecuador)
O plantaardig geweven (Ecuador)
O zijde gehaakt (nevousinstallezpas)
O zijden stof (fair trade zijde, Vietnam, nevousinstallezpas)
O polymeerklei (handmade, Canada)
O sinaasappelschil (Ecuador)
O Ethiopisch 'zilver'
O ander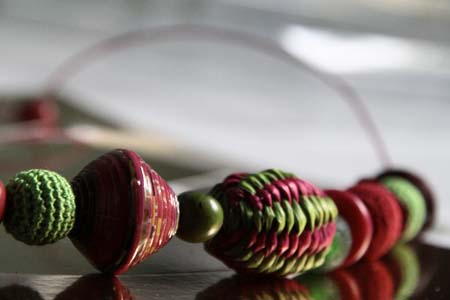 Ze gaan in een kadodoosje en zullen naast de inventaris, ook een flyer van de vzw Vroedvrouwen voor Ecuador bevatten.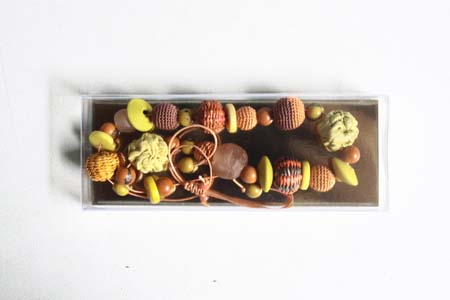 Ik neem de snoeren mee naar eindejaarsbeurzen: Stiel en Stijl in Heverlee op 12, 13 en 14 oktober as; de kadobeurs van vzw Sjamma (Gent) op zaterdag  4 december. Op de koopzondagen van 12 en 19 december vind je mij waarschijnlijk in het atelier van Ingrid Adriaenssens (Gent). Over dit alles zal ik nog bloggen en mailen.
Geniet van de mooie foto's, ze zijn nog eens van zoonlief.
This post is about my new necklace collection 'Voyage au bout du  monde'. The collection is inspired by my travel to Ecuador in two ways: I use the colourful natural beads I bougth there. And I'm going to give a part of it to Vroedvrouwen voor Ecuador ( Midwifes for Ecuador). We met one of the members of this organisation in Guayaquil and it's she that coached my daugther and her friend in the hospital where they have their midwife training.
More info on this organisation on their site (the site is in Dutch and in Spanish): http://vvevzw.webklik.nl/page/home