(English text below)
Voor ik naar Ecuador vertrok, was ik al van één souvenir zeker: tagua-noten. Dit plantaardig ivoor had ik leren kennen via de blog van Lotte De Mey en de mooie verwerking ervan van Mariemoo.
Je kan er daar niet omheen kijken, de noot wordt in allerlei vormen en kleuren (dan is ze geverfd) aangeboden. Sleutelhangers en halssnoeren vond ik er overal, de losse kralen vond ik op de markt van Otavalo. (in het Noorden van Ecuador, op zaterdag vind je daar de grootste artisanale markt van Latijns-Amerika!).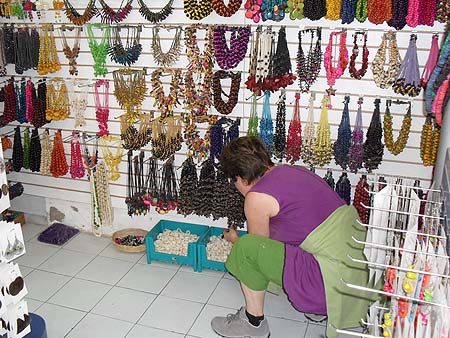 De tagua-noot dus, binnenin ziet ze er echt uit als ivoor. En ze groeit zo: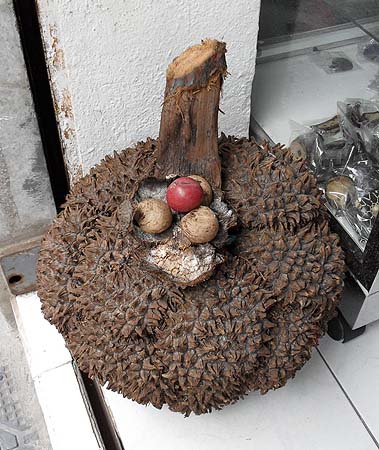 Of dit nu van een boom of struik komt, weet ik niet. De noten groeien alleszins niet zo aan een tak, ze komen uit een grotere vrucht. Dat er juwelen van gemaakt worden, ligt voor de hand. We zagen ook schaakstukken, kerststalletjes, dierenbeeldjes, knopen, …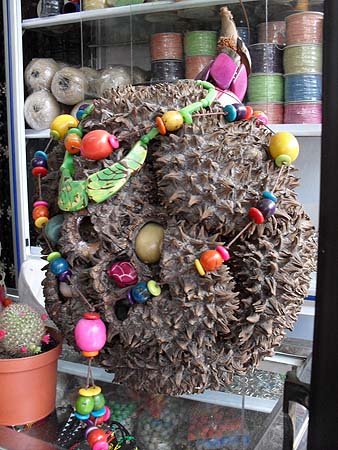 Ik citeer graag deze comment die ik een aantal maanden geleden op mijn blog ontving, nav mijn gebruik van echt ivoor in het African Diva's project. De uitleg komt van iemand uit Ecuador die een bedrijfje heeft dat tagua-noten exporteert:
TAGUA ECUADOR also known as Vegetable Ivory, corozo, or Exotic Ivory, is the dried and polished nuts of several South American palms. Tagua is remarkably similar to animal ivory in both looks and feel. Tagua is durable and easily carved, and it even mimics the porosity of animal ivory. The biggest difference: Elephant do not have to die. Evidently those similarities were not lost on early botanists who named the palm genus Phytelephas-"elephant plant." Versatility is only one of Tagua virtues. It is also infinitely renewable. In a single year, a female Tagua tree can produce 20 pounds of tagua nuts – that's about the amount of ivory on an average female elephant. The elephant, however, yields its ivory only once; the tree continues producing nuts year after year. The idea of using palm nuts as type of ersatz ivory is hardly new; it goes back more than 100 years. In 1865, a ship sailing from South America to Germany used a load of Tagua nuts as ballast. When the vessel docked in Hamburg, curious stevedores began playing with the Tagua and noticed its ivory like characteristics. Tagua quickly became one of Ecuador 's leading exports to Europe. Craftsmen used the nuts to fashion handmade decor pieces and souvenir handicrafts, from tagua chess pieces, tagua figures for decoration, to tagua buttons and tagua umbrella handles. In the early part of this century, Colombia and Ecuador were exporting some 40,000 tons of the material annually to the United States and Europe. After the World War II, competition from an inexpensive new synthetic called plastic wipes out the Tagua trade. Now that the world is waking up to the growing environmental problems which face our planet today and that environmental concerns are getting higher on the world's agenda that ever before, the use of Tagua is getting renewed. Commerce in vegetable ivory decor is helping foster respect for Rain Forests in Ecuador, and it is doing so through the nondestructive exploitation of a renewable resource.
Voila, en dit is mijn voorraadje: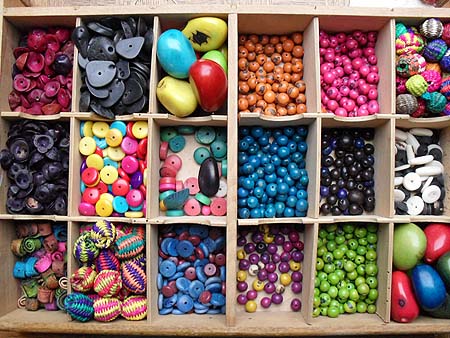 Naast de taguakralen, zie je er ook nog acai-zaden, kraaltjes van sinaasappelschil en plantaardige geweven kralen (ik weet niet van welke plant deze vezels zijn).
Van wat dichterbij: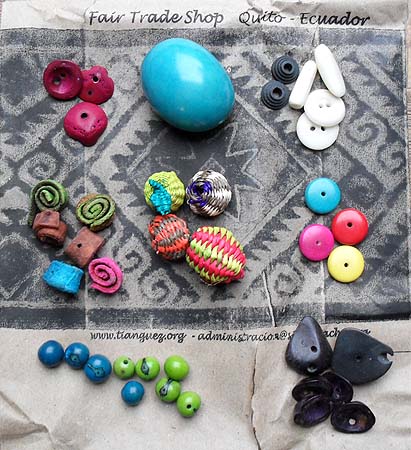 Die sinaasappelschilkralen, vind ik echt de max. Moet ik thuis ook eens proberen. Ik kocht er ook een snoer van sinaasappelpitten: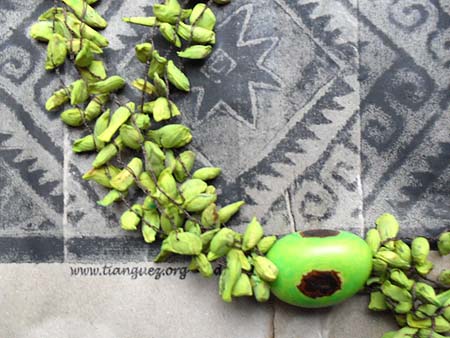 En verder in een winkel, dit snoer van pompoenpitten: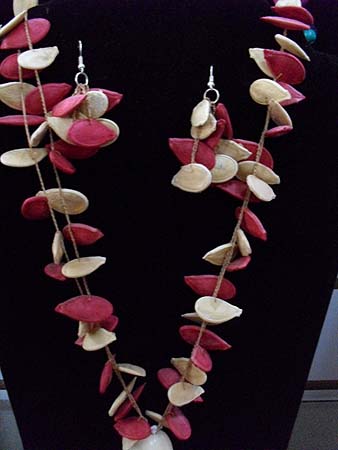 Ik ben met een aantal van deze kralen reeds aan de slag gegaan, voor een bijzonder project. Dat is voor een volgend blogbericht.
Above you see some of the beads I brought along from Ecuador. Please watch the tagua-nut, it is called vegetable ivory. And for more information, read the above text  (italic text)  on this special nut from Ecuador.
On the pictures you can see how this nut grows and what I bought in Otavalo (northern part of Ecuador, largest handicraf market in Latin Amercia) … all natural beads.

Apart from the taguanut beads, you can see acai seed beads, beads made from orange peel and woven beads.
I'm planning to use these beads for a special project, you will hear about it in a next blogpost.