(English text below)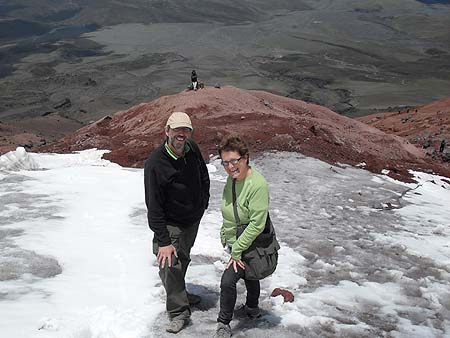 We zijn terug thuis van Ecuador, waar we onze dochter bezochten (die loopt er stage in het kader van haar opleiding vroedkunde) en ook gedurende drie weken rondreisden.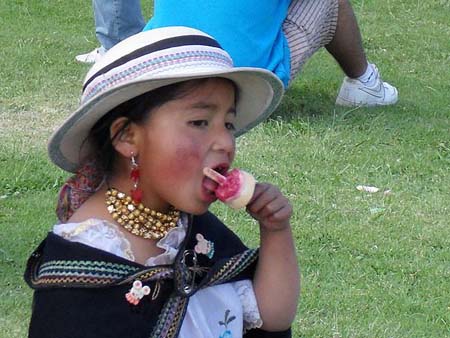 Deze eerste kennismaking met Latijns-Amerika was intens: we maakten er een poging tot 'staatsgreep' mee, mijn fototoestel werd gestolen (en dan maar een nieuw gekocht), we zagen er veel rijkdom en ook armoede, we proefden nieuwe dingen, we waren geweldig onder de indruk van de natuur, … en we vulden een rugzak vol souvenirs 😉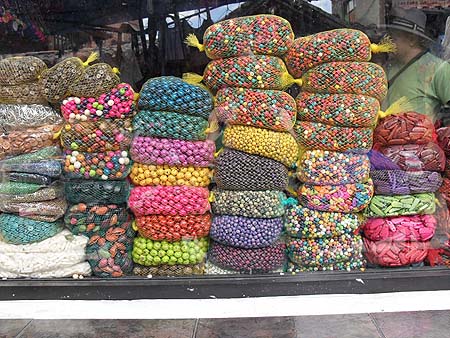 Het creatieve leven stond niet stil terwijl ik weg was:
– Ik kreeg van Daniel Von Weinberger in hoogsteigen persoon een comment op mijn blogbericht. Zijn tentoonstelling in Le Grand Hornu wordt verlengd tot eind oktober. En vanaf 14 april 2011 is hij te gast in het Modemuseum van Hasselt. Hier kan je mijn verslagje over ons bezoek aan zijn tentoonstelling nog eens opnieuw lezen.
– Bleu Celeste, één van de initiatiefneemsters van de beurs Stiel en Stijl, heeft sinds begin oktober haar eigen winkel in Heverlee. Afgaand op de foto's: het ziet er prachtig uit. Hier lees je alles over locatie en openingsuren.
– En dit weekend heeft Els Jacobs  van Some-thing-Els, haar vitrine geopend. Ze toont er haar originele breiwerk (sjaals). De vitrine is ongeveer rechtover het MIat in Gent (aan de overkant van het water). Klik hier voor Els' website, met info over de locatie en openingsuren.
Ik zit weer vol plannen, o.a. een nieuwe collectie waarbij ik de kralen die ik van Ecuador meebracht wil verwerken. Wat het bloggen betreft zal ik misschien nog wat een vakantietempo aanhouden … we zien wel. Stilzitten doe ik zeker niet ;-))
Well, I'm back from Ecuador where we visited our daughter (she's there on a training to become a midwife). It was an intense journey, a rich experience. Above you see some pictures.
I'm going to hold on the slower  life  for a bit longer. Don't know when I'll be back blogging again, maybe soon, maybe later .. . we'll see.