(English text below)
De uitwisseling van Afrikaanse inspiratie tussen Mariemoo en mijzelf is hier al vaker aan bod gekomen. Als we mekaar iets toesturen is het de bedoeling dat de afzender ook zelf aan de slag gaat met datzelfde materiaal.
Reeds half juni stuurde ik Marie een 'Petrie-pakket'. Het bevatte een aantal materialen die ik had gezien in het Petrie museum in London (Egyptische archeologie): kornalijn, struisvogelschelp, schelp, .. en ik had er ook een paar zee-egelpennen bijgestoken, omdat ik vond dat die daar mooi bij pasten/kleurden. Hier kan je mijn blogbericht daaromtrent herlezen.
Hier is : African Diva nummer 27!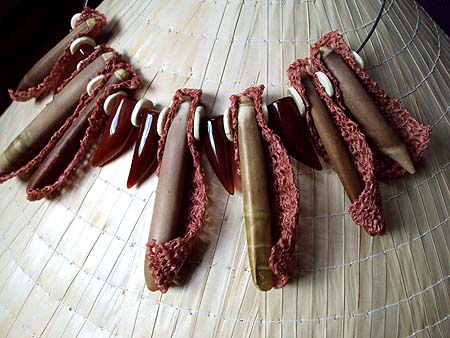 Ik heb weer een verzilverde choker gebruikt als basis. Ik vond dat dit materiaal zich er het best toe leende om het snoer mooi te laten uitwaaieren, zodat het als een soort van kraag kan worden gedragen. Het blijft gemakkelijk rond je nek liggen.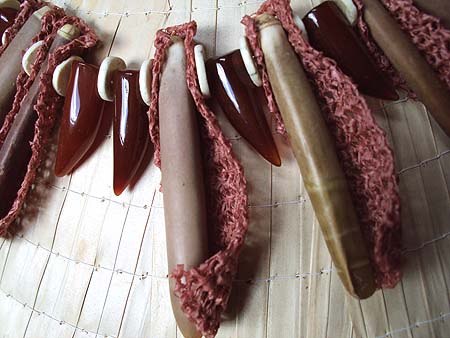 Dit moet trouwens mijn eerste snoer zijn waarin ik geen zijde heb gebruikt. Het gehaakte materiaal is een soort van papier gemaakt van linnen.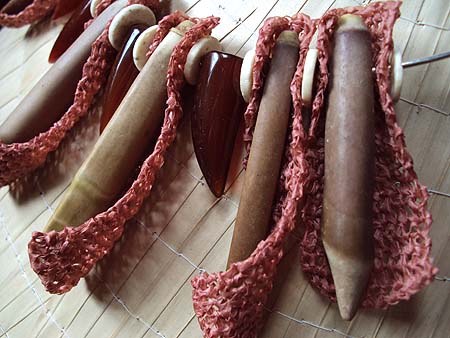 It was mid June that I sent this inspiring African item to Mariemoo. It consisted of carnelian, ostrich shell, shell , … You can reread my concerning blogpost by clicking here.
When we send each other a parcel with materials, the sender also has to use it as an inspiration for some jewellery.
It took some time before the muse came giving me this idea. I used a silverplated choker to string all my material on, because this makes that the necklace can be worn as a kind of a collar.
The crocheted parts are made of a kind a paper made of linen.