(English text below)
Weet je nog waar DD voor staat? Dear daughter! En de onze wordt vandaag twintig! Hip hip hoera!
Dat zoonlief creatieve genen heeft meegekregen bleek reeds uit zijn foto's voor deze blog. Dochterlief heeft graag textiel in de buurt (en dat is hier overvloedig in huis ;-)):
Zot van Winnie the Poeh! Het kruissteekwerk haalde ze uit een borduurboekje, de rest is eigen ontwerp en uitvoering (zij zit verstopt achter het dekentje, wou niet top de foto):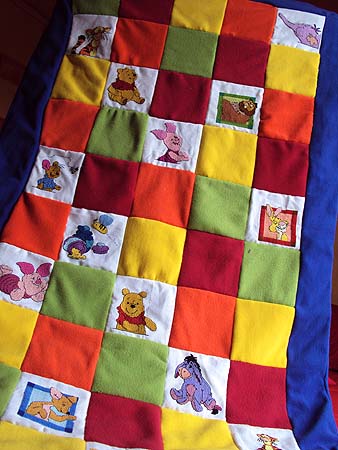 Ik leerde haar ooit breien en haken, maar kabels breien leerde ze op zichzelf. En ze is ook zot van handtassen, dit is de meest recente: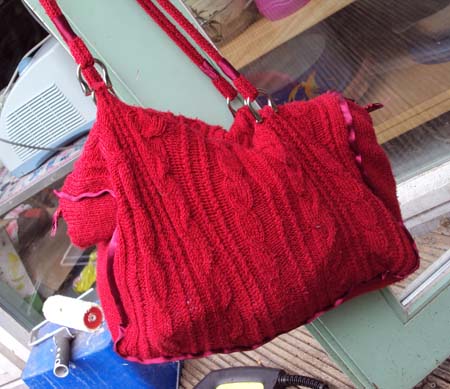 I-pods, gsm's, … alles krijgt een zelfgemaakt hoesje: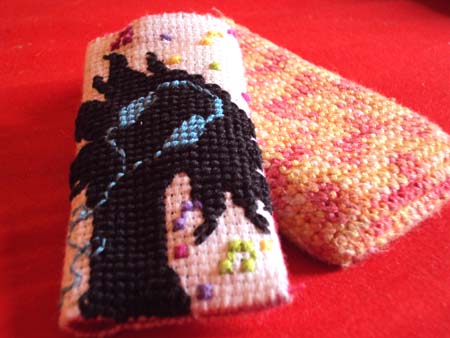 En deze wereldbol maakte ze voor een wedstrijd van een internetspel:
De wereldbol hield ik voor het laatst, want daar hoort nog een nieuwthe bij. Deze madame die vanaf vandaag een twintiger is, vertrekt eind deze maand naar Ecuador! Ze zal er stage lopen in het kader van haar opleiding vroedkunde. Haar avonturen kunnen jullie volgen op de pas gestarte blog 'De avonturen van Kaat en Ayla in Ecuador'.  Klik hier. De blog staat voortaan ook op de blogroll hiernaast onder de rubriek 'Miscellania' – Ayla en Kaat.
En ook de moeite om mee te delen: ook papa en mama gaan naar Ecuador! Yes!!!! Misschien wordt deze blog binnenkort even een reisblog …
Do you remember where DD stands for? Dear Daughter! Ours celebrates her twentieth birthday today.
Just wanted you to show some of her creative talents, see the pictures above.
And this daughter of ours leaves for Ecuador in three weeks. She will work there in a hospital, as a training for her midwife studies. And: mum and dad will visit her and travel through Ecuador as well!