(English text below)
Ik heb ze al vele vele jaren niet meer gehaakt, had er zelfs een zekere aversie tegenover … granny squares … te ouwerwets, te veel lelijke toepassingen, …
Je ziet ze evenwel steeds vaker opduiken: in mooie kleurencombinaties, in originele toepassingen (zelfs bij grote mode-ontwerpers), … en 't is plezant om te doen. Geen volle concentratie en toch lekker bezig zijn!
Ik ook dus! 😉
Deze draden van Wolle's Yarn Creations beten al lang in mijn been, maar ik vond er maar geen geschikte toepassing voor. Toch besteld.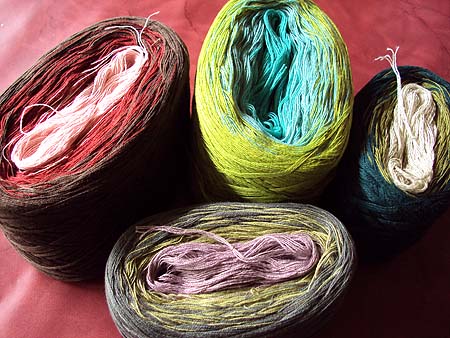 En net op tijd geleverd voor mijn vele kilometers treinreizen van de voorbije weken (Le Grand Hornu en Luik).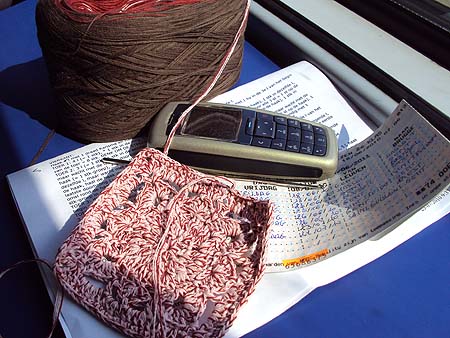 Omdat de draden op zich al een kleurverloop hebben, ben ik op zoek gegaan naar een vierkantje met een motief. Geen andere draad/kleur dus binnen één vierkantje, zoals ze meestal worden gehaakt. Ook leuk: eens haken op basis van een uitgeschreven patroon (makkelijk te vinden op het internet!).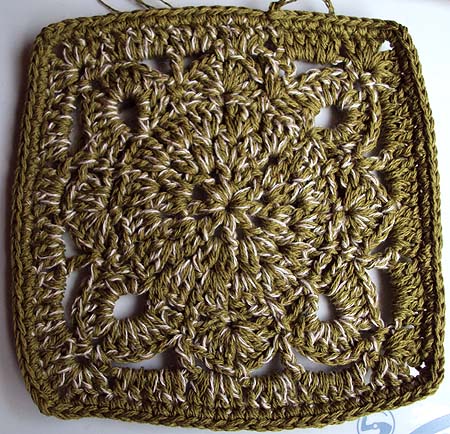 En voilà , ik heb al bijna twee van die bobijnen opgehaakt: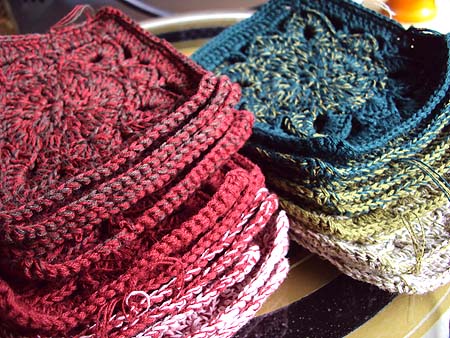 Het wordt sowieso een dekentje voor op onze zetel beneden (waar ik soms wel eens en dutje durf doen …)
Ik twijfel nog of ik nog meer van dat garen bestel, of op zoek ga naar effen gekleurd garen voor de rest van de vierkantjes.
Als 't klaar is en ik er kan onderkruipen voor mijn dutje, volgen er meer foto's ….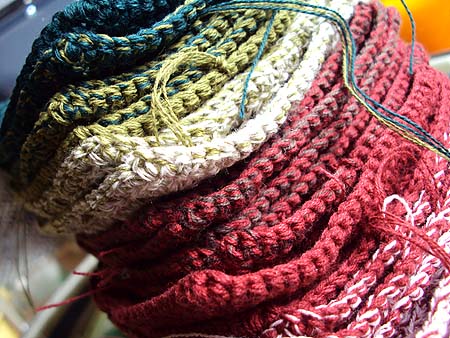 Nog een interessante link is die van 'Crochet me'. Je kan je er je mailadres opgeven en je krijgt haast elke dag een haaknieuwsje.; Vaak reclame voor nieuwe boeken, maar ook gratis downloads. Klik hier voor het bericht van eerder deze week, waar je een gratis aantal patronen/toepassingen van de granny square kan downloaden (o.a. grappige gehaakte sokjes met een boordje van grannies).
I've long had a kind of aversion towards granny squares .. too old fashioned, too much ugly applications.
But I've yielded , who knows … could become an addiction 😉
I ordered soms variegated cotton yarn at Wolle's Yarn Creations and started crocheting granny squares … .
I'm still doubting whether I will order more of this beautiful yarn to finish my blanket, or whether I will use simple one-colour yarn for the rest of the squares …
Talking granny squares, I want to mention you 'Crochet me', you can sign in to receive almost daily crochet tips and announcements of new crochet books. This week you can download a free granny square pattern book, Click here for the link.