(English text below)
Het bloggen loopt hier wat langzamer dezer dagen. Jullie zijn trouwens en masse met vakantie, dat kan ik zien aan het lage bezoekersaantal … Geniet volop, mijn beurt komt ook nog wel 😉
Tja, en die chokers … zo leuk om mee bezig te zijn.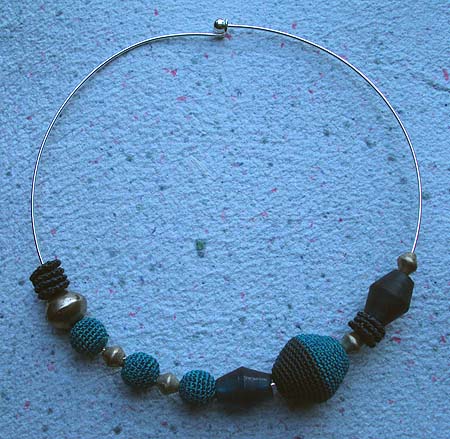 Eentje met een 'thema': bicone kralen. Die zilverkleurige vind je o.a. in Zahia, de blauwe in gerecycleerd glas heb ik van het internet (niet makkelijk te vinden) en de tweekleurige zijden is rond een bicone houten kraal gehaakt (gekocht in Londen en meer dan één pond per kraal betaald …).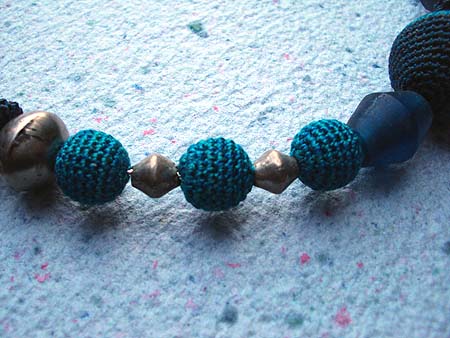 't Is dus een beetje een snoer met zeldzame vondsten.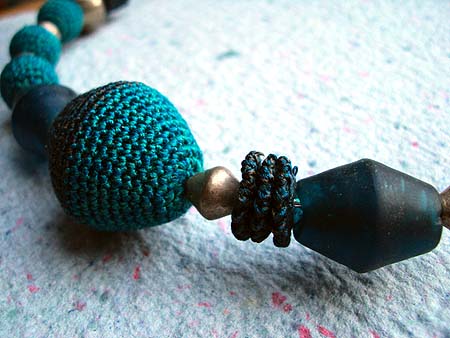 Ook al zijn die chokers vrij kort , ik vind het een leuke lengte om te dragen.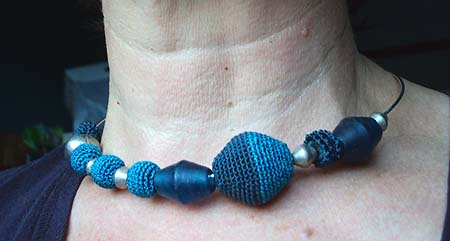 Nieuws!!!!!: Mariemoo heeft voortaan een kleine winkel op haar thuisadres in Kortenaken. Klik hier voor meer info!
Blogging goes a bit slower than normal these days.

Lots of you seem to be on holidays by the way (cf the low visitors statistics) … Enjoy! My turn will come soon 😉
I made another choker. Theme: bicone beads. They're difficult to find, especially the ones in recycled glass and the wooden one (which I covered with silk crochet work).
So this is a necklace with rare beads.