(English text below)
Toen ik met mijn Ashanti-snoer (AD 22) bezig was, kon ik maar niet genoeg krijgen van de ontelbare kleurencombinaties die ik kan maken met al dat zijden naaigaren. Ik heb er nog één en ander mee aangevangen, waaronder deze kralen: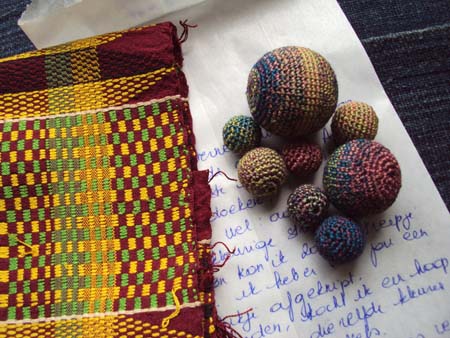 Ik heb ze opgestuurd naar Mariemoo! als vijfde item in ons gezamenlijke project. Klik hier om te bewonderen wat ze met deze gehaakte kralen heeft aangevangen. Knap hé.
Ook item nummer zes heb ik meteen opgestuurd. Ik kon niet kiezen, vandaar twee pakjes ineens. Dit laatste pakketje heb ik het 'Petrie'-pakket genoemd. Allemaal materialen die ik in Londen in het Petrie museum zag, of materialen die er goed bij passen: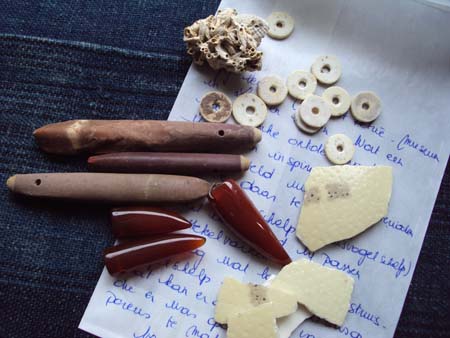 Er zit kornalijn bij, struisvogelschelp, een echte schelp en stekelvarkenpinnen …. Marie is ook met dit materiaal al aan de slag gegaan, ik moet er nog aan beginnen. Wordt dus vervolgd!
While working at my Ashanti-necklace (AD 22) I had much more ideas for designs using all this sil sewing yarn. One of them was making crocheted balls in lots of different colour combos. I sent some to Marie as 5th item in our common project.
Look what a lovely necklace she made with it. Click here to go watch her pictures.
The second picture is another item I sent her. I called it the Petrie-item. The contents are inspired by what I saw in the Petrie Museum in London. I know Marie already started designing another necklace with this material … I still have no idea what to do with it .. so, to be continued, that's for sure!