(English text below)
Vrij vroeg in mijn African Diva's collectie, ging ik op zoek naar Afrikaanse weefsels waarin zijde werd gebruikt (ik wou toch een beetje mijn consequent gebruik van zijde verantwoorden, ook in deze Afrikaanse collectie ;-)) . Bijna alle Afrikaans textiel is in katoen, maar bij de Ghanese (en Ivoriaanse)Â  'ashanti' (of 'kente')-doeken, kwam ik toch bij zijde terecht. Deze welgekende doeken bestaan uit aan mekaar genaaide lange repen, gekleurde strepen, met ingelegde geometrische motiefjes. De naam Ashanti verwijst het voormalige West-Afrikaanse koninkrijk (waar nu Ghana is) dat bestand vanaf de 10de eeuw en verviel rond 1850.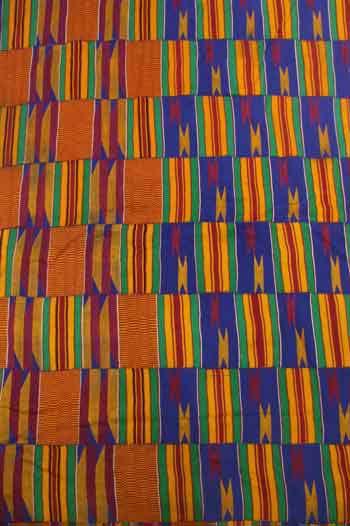 Toen we in he voorjaar in het British Museum in London waren, zag ik er een Ashanti-doek (er hangen er twee op de achtergrond):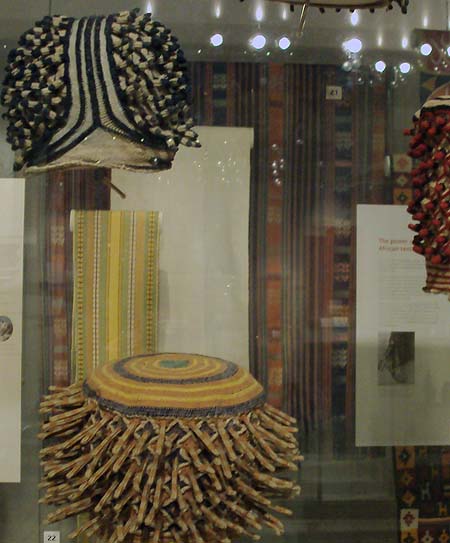 Ook in het British Museum, dit 'wandtapijt', van de Ghanese kunstenaar El Anatsoui , volledig in gerecycleerde metalen omhulsels die rond een flessenhals zitten, geïnspireerd door de Ashanti-weefsels.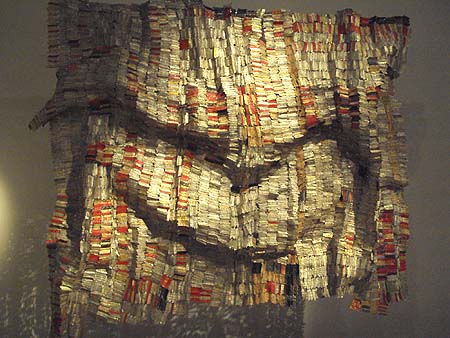 In Alfie's Antique Market; kon ik bij Adire uit deze mand één lange reep van dit weefsel kopen. Prachtige kleuren! Je ziet mijn reep er bovenop liggen. En links op de foto, het eenvoudige weefgetouw waarmee deze repen worden geweven.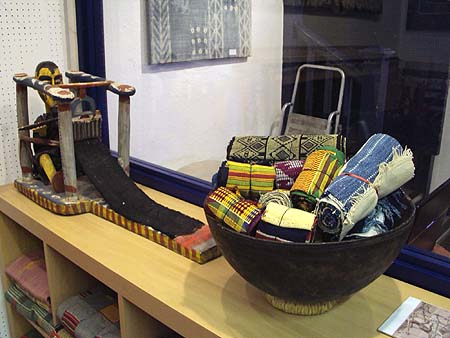 Voila, nog een hoop dunne zijde bijgekocht … op weg naar mij African Diva nummer 22!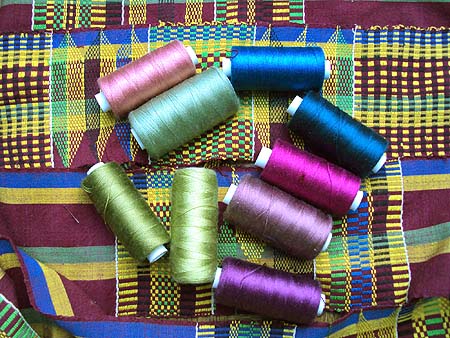 Klik hier voor de Wikipedia pagina (Engels) over Kente weefsels
Later deze week krijgen jullie het verdere verhaal én het snoer!
As I always work with pure silk, I wondered what connection there could be between my African Diva's collection and the silk material. Almost all African textiles are in cotton, but Ashanti (or Kente)-cloth is in silk.
When I was in London earlier this year I saw a real Ashanti-cloth in the British museum. And there was also a beautiful 'taperstry' by El Anatsoui,  all made of recycled bottleneck wrappers and inspired by these cloths.
In Alfie's Antique Market I could buy one sripe of such a cloth in the Adire shop. I used this piece of cloth as the inspiration source for my next African Diva's necklace. I bought some silk in matching colours … and ready for AD 22!

Click here for the English Wikipedia article on Kente-cloth.
Later this week, more about the story of my inspiration and the necklace itself!