(English summary below)
Toerist in eigen stad, op een zonnige dag in de voorbije paasvakantie, da's volop genieten! Toen Marie onlangs een dagje naar Gent kwam, lag het voor de hand dat we een parcours zouden volgen, waarbij al mijn favoriete winkels zouden worden bezocht.  Klerenwinkels lieten we links liggen, jawel 😉
Eerste halte: de rommelmarkt bij Sint Jacobs (het plein heet eigenlijk: Beverhoutplein); elke vrijdag-, zaterdag- en zondagvoormiddag tot ongeveer 13uur. Ook Zahia zit op dit plein (openingsuren zijn aangepast aan de rommelmarkt, Zahia Gent is dus ook open op zondagvoormiddag).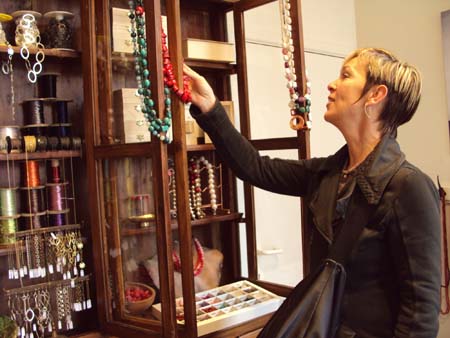 Opzij van Zahia is er nog een superleuk winkeltje met oude mercerie (knopen, lintjes, hoeden en kledij, ….) – enkel open de uren van de rommelmarkt.
Vergeet er ook niet een lekkere Latté (met een zelfgebakken koek) te drinken aan de gezellige koffiebar. Wij kwamen er toevallig ook Trui (Fil en Baukis) tegen.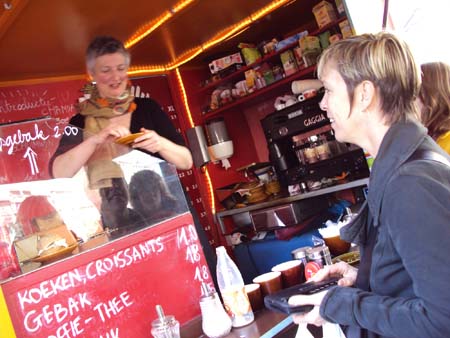 Lunchen deden we op 'mijn' plein: het Veerleplein – tegenover het Gravensteen. De heilige Veerle was de patroonheilige van Gent. En waar nu het Veerleplein is, stond vroeger de Veerlekerk. En daar werd 'item nummer vier' overhandigd … supermooie (en oude!) spingewichtjes uit Mali, door Marie gekocht in Senegal.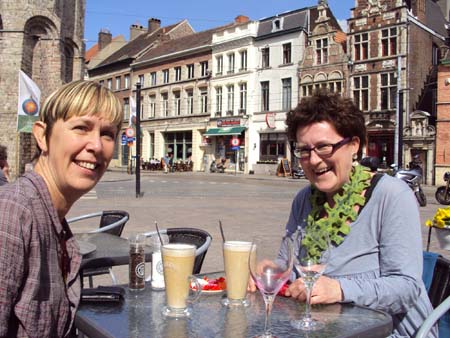 Wie goed kijkt ziet tussen mijn handen rood zijdepapier (en een zwart pluimpje). Dit is het bijzondere vierde item: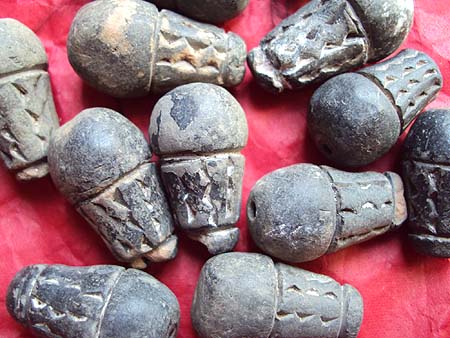 Vandaar naar de – volgens mij – mooiste straat van Gent : de Jan Breydelstraat, met Phulkari (ethnisch accessoires, kralen, …),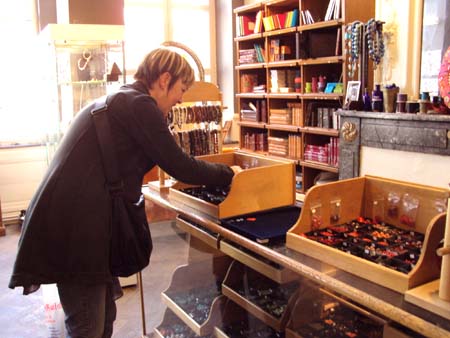 Huiszwaluw (leuk interieurspul en hebbedingen, veel handgemaakt, …),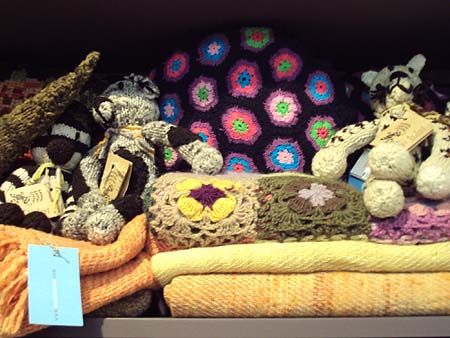 The Fallen Angels (oude prentbriefkaarten, blikken dozen, …),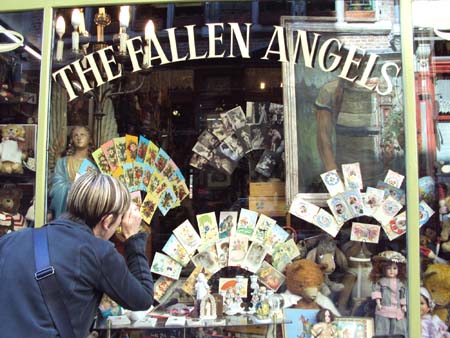 het Design Museum, mijn favoriete bloemenwinkel Papaver, watertanden in de Etnische galerie Uit Steppe en Oase…
En uiteraard het Cooremetershuys op de Graslei (o.a. hedendaags, origineel juweelontwerp).
In Onderbergen keken we rond bij A-Puur en bij Nathalie Engels (waar ook de juwelen van Fleurfatale worden verkocht).
In de Bennesteeg sprongen we net voor sluitingstijd nog binnen in de galerie van Elisabeth Leenknegt .. .een glasjuweel  staat op ons wenslijstje!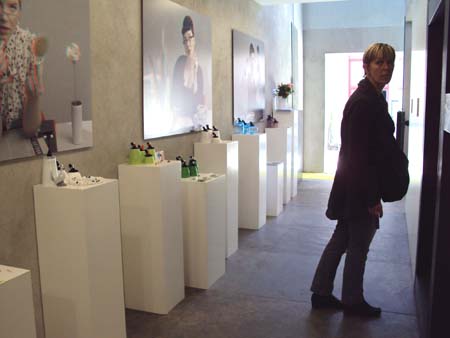 Afsluiten deden we op het terras van Het Pakhuis, super! (kijk er zeker eens binnen… indrukwekkend!)
En nu blijf ik even stil … de aswolk uit Ijsland schijnt bedaard … ik kan dus woensdag naar Stockholm vertrekken!
This post is about a shopping day in my hometown Gent. By clicking on the name of my favourite  shops, your can learn more about ithem and perhaps plan a citytrip to Gent yourself!