(English text below)
In de vorige post kon je wat lezen over de laatste reeks workshops die ik gaf. En over de rijke uitwisseling die er spontaan gebeurde.
Eén van de deelneemsters, Adinda, was zelf bezig uit te proberen hoe reliëf aan te brengen in haakwerk. Ze toonde me een leuke manier om een plat schijfje te haken. 't Was direct mijn ding !
Hieronder overvloedig bewijs dat ik er niet genoeg kan van krijgen.
De voorbereidingen: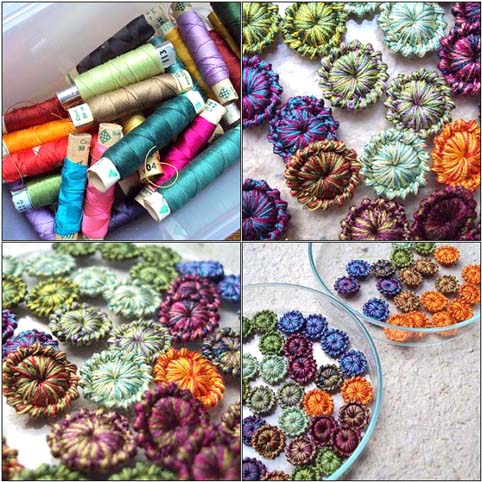 De oorbellen: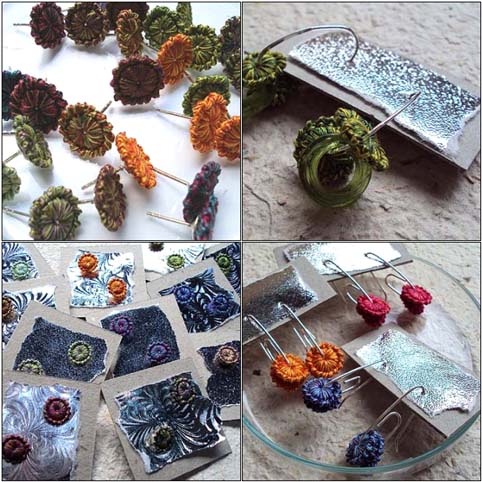 En omdat ik dit zelf een mooie foto vind: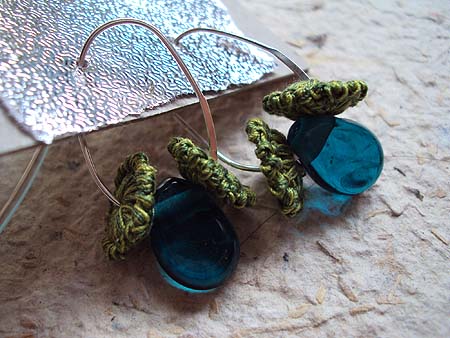 Tegen volgende week, liggen deze oorbellen allemaal in de museumshop van het MIAT in Gent.
En ik ben nog volop bezig met schijfjes haken. Het vierde item in het Afrikaanse-inspiratie-uitwisselingsproject-met-Marie … het vierde item dus, is hier inmiddels ook binnen gewaaid (later meer!) … ook in één van de volgende African Diva's zullen de schijfjes alom tegenwoordig zijn.
The participants of the latest workshops I gave, were very open to share ideas and knowledge with each other and with me. One of them, Adinda, was busy finding out how to bring relief in crochet work. She showed me how to make the disks you see in the above pictures.
I just love so much to make them that I can't stop!
All the earrings you see above will be in the museumshop of MIAT (Gent, Belgium).
And I really can't stop. In the meantime item number 4 of the African project I share with Marie (Mariemoo) arrived … more disks to come!!!