(English summary below)
Afgelopen maart, gaf ik in het Gentse MIAT-museum een reeks van drie namiddagen 'Sier(dr)aden haken'.
Het was een bijzonder creatieve groep, en  er was ook veel uitwisseling (waarvoor dank!) …
Hier is een impressie :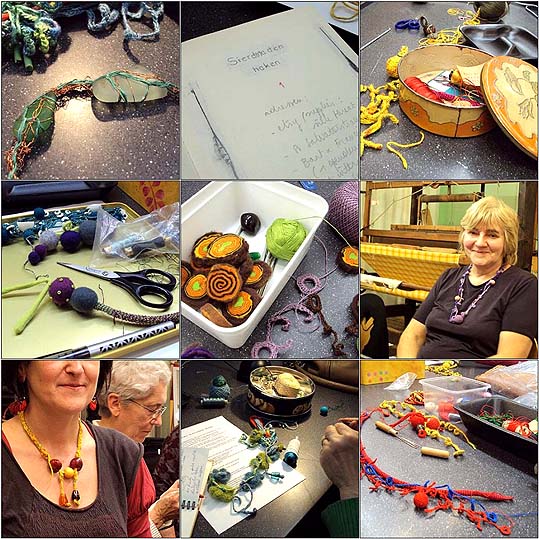 Nog veel meer foto's kan je zien vanaf hier.
Workshops geven doe ik niet vaak, maar na de reeks in het MIAT had ik de kriebels weer volop te pakken.
Op vraag van velen dus nog eens twee ganse-dag-workshops: op 15 mei as in Gent en op 29 mei in Kessel-lo (Leuven). Wie al in mijn mailbestand zit, kreeg reeds de flyer. Mocht iemand van jullie de info over deze workshops willen ontvangen: gewoon even vragen via een reactie op dit bericht, of via mijn mailadres dat je hier rechtsboven deze blog vindt. Er zijn nog een paar plaatsen beschikbaar voor beide dagen.
Above you see some pictures of the workshops I gave some weeks ago.
From here onwards you can see a lot more pictures.