(English text below)
Hier is ze dan: de ivoren broche! (klik hier voor het blogbericht over dit item in het uitwisselingsproject tussen mij en Mariemoo!).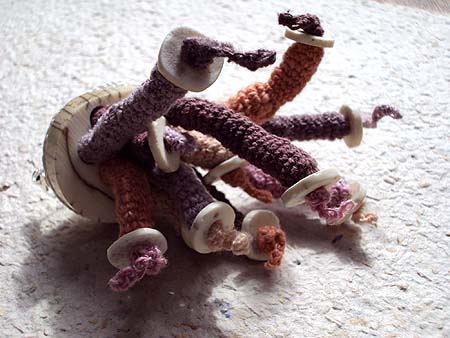 De 'olifantenslurfjes' zijn gehaakt in een onregelmatig gesponnen zijde. Ik heb me gewoon laten gaan met de kleuren die ik voorhanden had. 't Is eens iets anders …
Met de slurfjes kan je wat spelen. Ze zijn vrij strak aangespannen, je kan ze in verschillende richtingen modelleren.
Let op de witte schijfjes aan de uiteinden van de slurfjes: struisvogelschelp. Ik ben naar die schijfjes op zoek gegaan sinds ik ze zag in het Petriemuseum in Londen. Ik vind het prachtig materiaal en zal ze zeker nog gebruiken in mijn AD-collectie.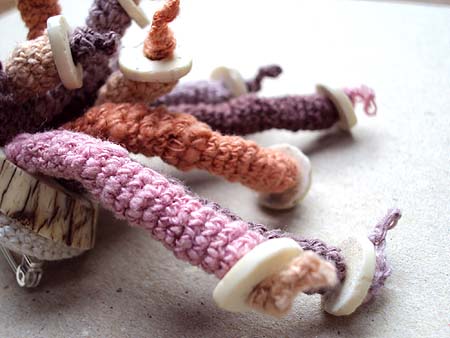 De speld heeft achteraan een zilveren slot, netjes vastgenaaid op een lapje haakwerk. Daar ben ik niet echt tevreden over. Het haakwerk aan de achterkant van het ivoor (waarbinnen de opzet- en afzetdraden verborgen zitten) , samen met de speld zelf, vallen nogal dik uit. De speld doet het wel goed op een dikkere stof (dan 'verdrinkt' de dikte van de speld in de dikte van de stof). Op een dunne stof wiebelt ze teveel …
Over een kort tijdje: een snoer met een ander stukje ivoor. Snoeren blijken toch meer mijn ding te zijn dan broches of armbanden. Maar het was wel eens plezant, eens iets te kunnen afwerken in maar een paar uurtjes.
Klik hier om alle foto's te zien van deze speld.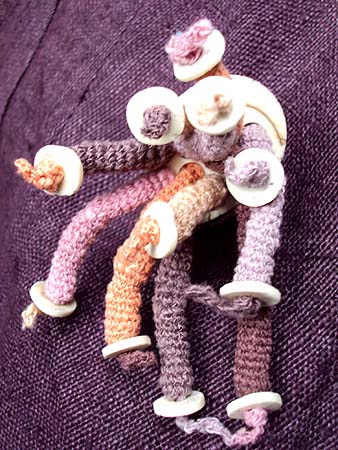 Here it is, the ivory brooch!
Click here to reread my blogpost on this third item in the exchange project between myself and Mariemoo!
I crocheted some kind of 'elephant trunks' in some nice irregularly spun silk thread.
Mind the white disks on top of the trunks: ostrich beads! I've been looking for them since I saw ostrich beads in the Petrie museum in London. I think this is really very beautiful material. it will certainly return in my African Diva's collection.
I'm not really satisfied with the back of the brooch: it's a bit too thick to wear it on thin fabric.
But in the meantime I started another necklace with another piece of ivory. Seems that necklaces are more my piece of cake than brooches or bracelets ….
Click here to see all the pictures of this brooch.