(English text below)
AD 16 (het snoer met de christmas beads van Marie) en AD 17 (een reeksje oorbellen met diezelfde kleine kralen) moeten even wachten. Meneer de zoon/fotograaf is op schoolreis naar Portugal en het lukt mevrouw de mama niet om dat snoer deftig op foto te krijgen.
Geen nood, er ligt hier nog wel wat dat wél blijkt te pakken met mijn eigen fototoestel, AD 18 dus!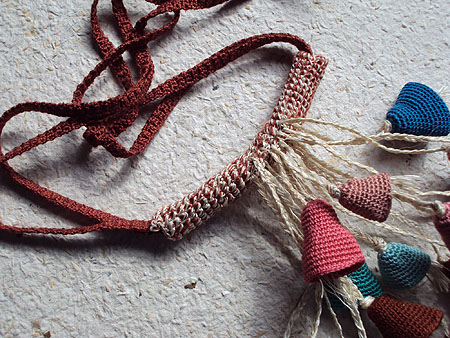 Toen Marie en ik eind januari naar het Afrikamuseum in Tervuren trokken, heb ik daar veel foto's getrokken. (Het verslag kan je hier nog eens herlezen). Haast alles was er inspirerend. Ook dit: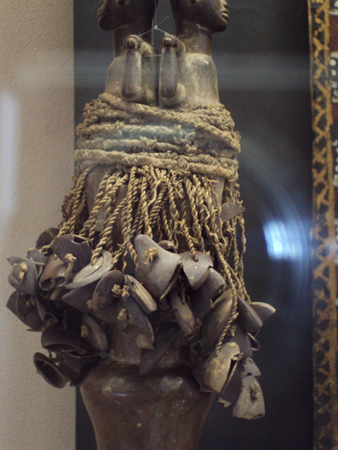 De vorm van die zaden (?) vond ik leuk. En ook dat het zo gebundeld was i.p.v. alles eindjes naast mekaar. Ook het vlechten, of toch tenminste eens iets anders doen dan haken …
En dit is het geworden: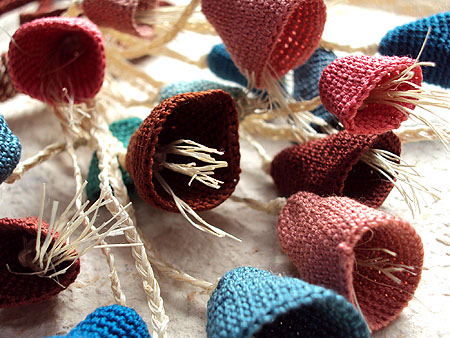 Het witte sisalachtige touw wat ik gebruikte voor de gevlochten sliertjes is 'abaca'. Abaca is een bananensoort, die een vezel levert, ook 'manillahennep' genoemd. (klik hier voor de wikipedia pagina over abaca).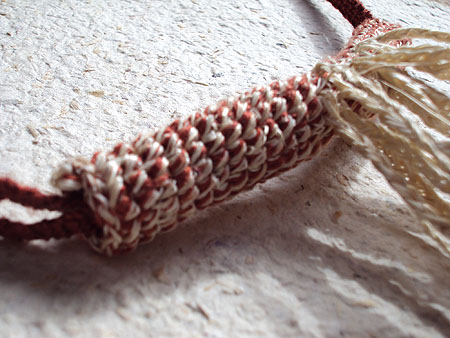 De bomen: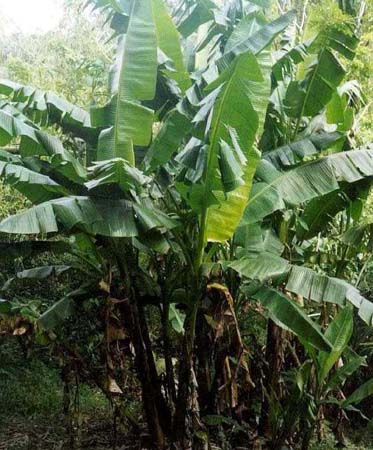 De vruchten:
De vezels: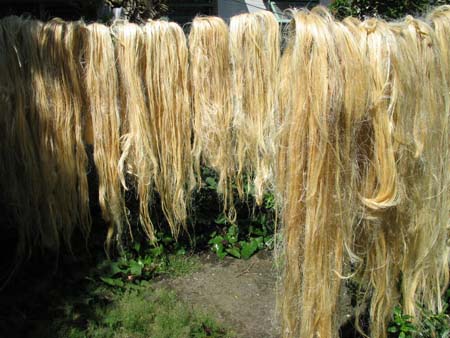 Qua kleuren ben ik eens een andere richting uitgegaan. Een trouwe lezeres merkte onlangs op, dat ik echt vaak naar dezelfde kleuren teruggrijp. Vandaar expliciet gezocht naar een , voor mij, minder voor de hand liggende kleurencombinatie. Afrikaanse stoffen geven op dat vlak mogelijkheden genoeg: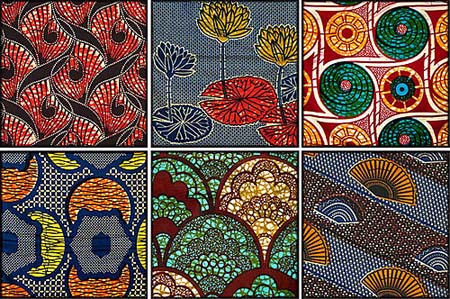 Zoals gewoonlijk bij mijn snoeren, is ook deze aanpasbaar. Kort (en dan is het gehaakte lintje dubbel) :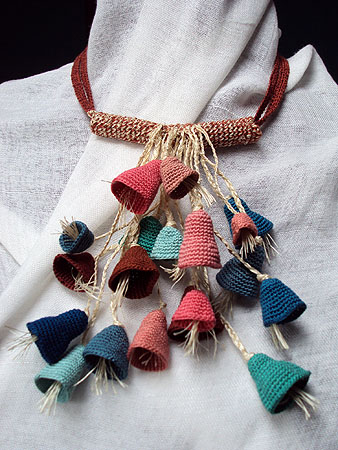 Of lang: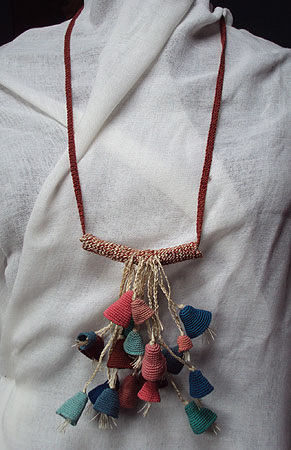 Vanaf hier nog meer kijkplezier.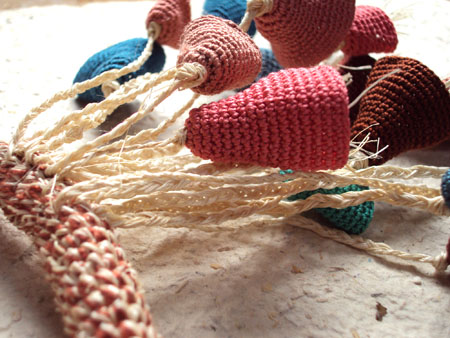 AD17 (a necklace made inspired by the christmas beads Marie sent me) and AD18 (earrings made with the christmas beads) have to queue a bit. I don't manage to make proper pictures of them (and mister son/photographer is on a school trip to Portugal).
My camera did like this necklace though!
It's inspired by a kind of necklace I saw in the Africa museum in Tervuren (Brussels) end of January (click here to reread the report on this museum visit).
I loved the form of the seeds (?) and the fact that they hang together in a bunch. That's what I tried to evoke in this necklace.
I used a new material for the ends on which hang the crocheted 'seeds'. It's 'abaca' , a kind a banana fiber. Click here for the Wikipadia page on 'abaca'.
As for the colours, I was inspired by African fabrics. I on purpose, picked out a colour combo I'm not used to. A regular reader of this blog, pointed me out that I really often choose the same colours. That's why I tried something else this time. What do you think?
Enjoy watching this special necklace. More pictures from here onwards.