(English text below)
Inmiddels ben ik al meer dan vijf jaar bezig met het haken van mijn zijden juweeltjes. De dozen geraken wat vol. Tijd, om heel af en toe, afscheid te nemen van een snoer. Afscheid nemen betekent in dit geval, het snoer oplijsten in mijn Etsy-shopje. Een goed moment overigens: 't is deze week Euro-week op Etsy!
Deze paarse bloemenweelde dateert nog van voor mijn blog, graag een paar foto's: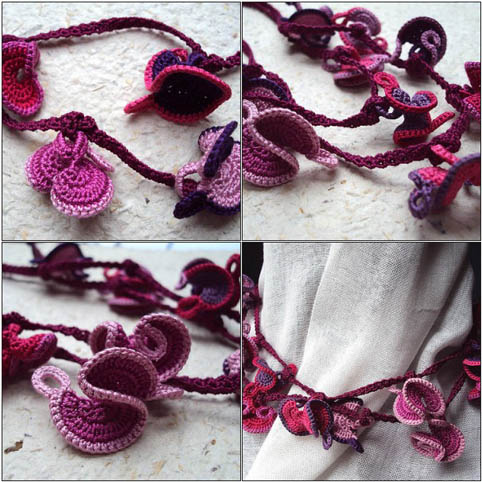 't Is een bloemenfiguur ( een 'parabool' met een oogje aan de uiteinden) die ik daarna nooit meer heb gebruikt. Het snoer doet mij denken aan lente en bloemenslingers …
In the meantime I've been crocheting this silk jewellery for more than five years. This means that I have quite some boxes filled with necklaces.
Every now and then I say goodbye to one of my treasures. Saying goodbye in this case, means listing it in my Etsy-shop. You can find it here in my shop. By the way: this week is Euro-week on Etsy!

This necklace has something of a bunch of flowers, a garland …