(English text below).
Deze African Diva is een afgeleide van de AD 12, die jullie in het vorige bericht zagen. In dit geval betekent 'afgeleide': zelfde kleuren en materiaal, maar veel minder werk.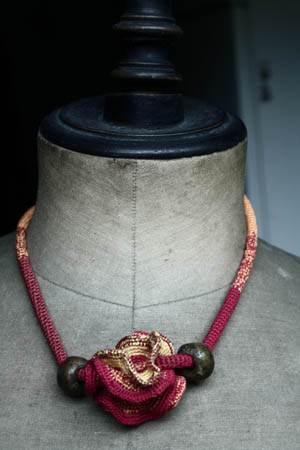 Ik heb de golvende beweging van de Peul-oorbellen bewaard, maar vereenvoudigd. De 'bloem' in het midden vond ik weinig Afrikaans hebben. De combinatie met kralen moest daar aan verhelpen.
Ik probeerde toch meer dan één mogelijkheid uit, vooraleer alles vast te maken (je ziet de kopspeldjes nog zitten).
Met ringen uit kokos: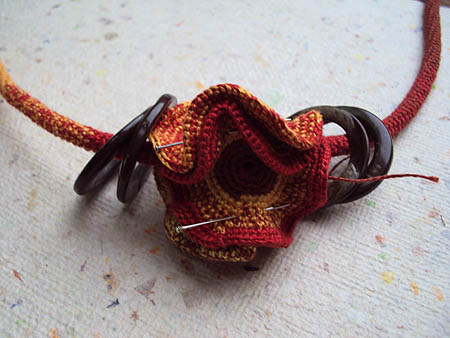 De combinatie met de oranje glazen kralen uit Libanon, vond ik ook goed. Maar ze vielen af omdat ze uit Azië komen.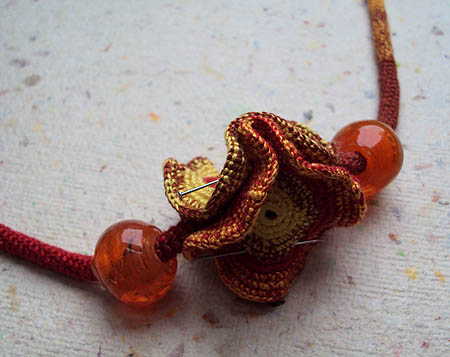 Het werden dus och weer de koperen ringen die de eindmeet haalden.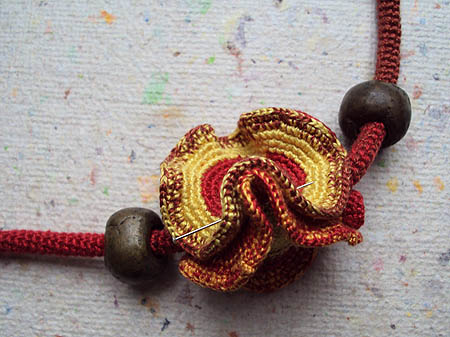 Vanaf hier, kan je nog meer foto's zien van dit snoer.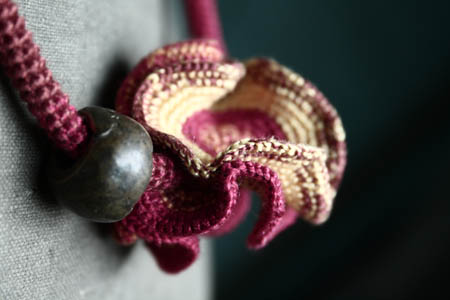 This African Diva's necklace is a byproduct of AD 12, which I showed you in the previous post.
In this case 'by-product' means: same colours and materials, but less work.
I kept the movement of the Peul-earrings, but smaller and simpler. I thought the 'flower'Â  alone was not African enough. So I tried out some combinations with beads (which you can see on the pictures).
I like the glass orange beads as well, but knowing they're not African (they originate from Lebanon, Asia), made me opt for the copper rings.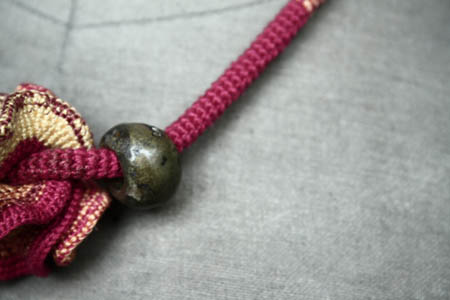 From here onwards, you can see more pictures of this necklace.