(English text below)
African Diva's nummer twaalf is een redelijk indrukwekkend snoer geworden in rode, oranje en gele tinten.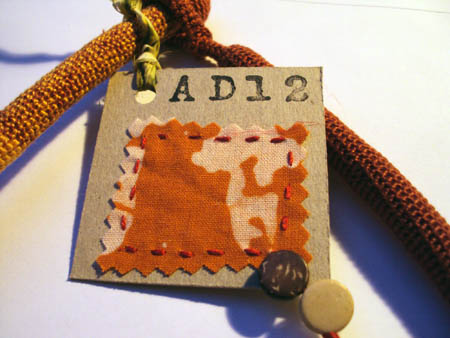 De inspiratie kwam alweer uit Angela Fisher's prachtige fotoboek 'Africa Adorned': de indrukwekkende gouden oorbellen van de Peulvrouwen (Mali).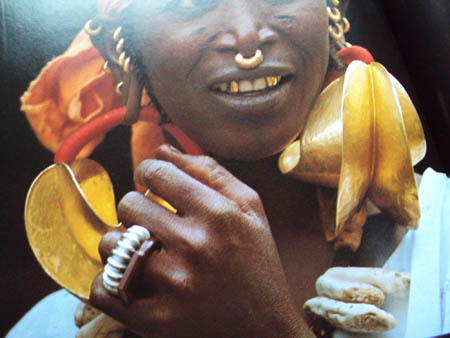 Ik heb in dit snoer geprobeerd om de eenvoudige, zware , golvende beweging van deze oorringen te evenaren met haakwerk.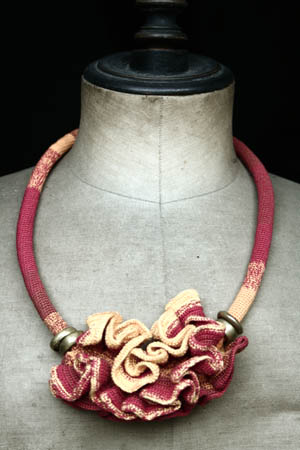 Ook mijn kleurkeuze is geïnspireerd door het goud van de juwelen op de foto. In het echt zijn de kleuren helderder (foto's zijn binnen genomen).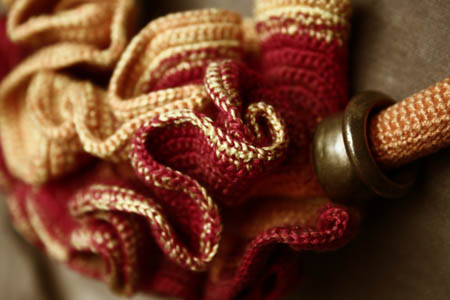 De koperen ringen (Ethiopië??) geven het snoer een extra Afrikaans accent en laten de kleuren nog meer tot hun recht komen.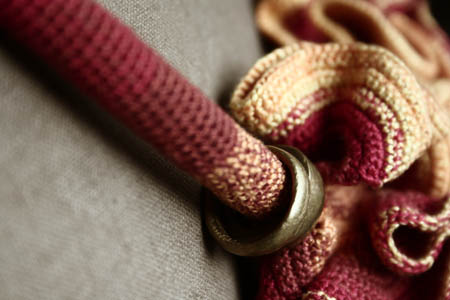 Vanaf hier kan je alle foto's zien van dit snoer.
And again I found beautiful inspiration in Angela Fisher's photobook 'Africa Adorned'. I just love these heavy golden earrings worn by the Peul women (Mali).
I've tried to 'copy' the heavy but simple movement of these golden earrings. Also my colourchoice was meant to give this necklace a golden, rich shine. Some copper rings (Ethiopia?)Â  give this necklace an extra golden and African touch.
From here onwards, you can see all the pictures of this necklace.