(English text below)
In het kader van mijn samenwerking met Mariemoo! rond Afrikaanse inspiratie, heb ik vorige week item nummer drie naar haar opgestuurd: ivoor!
Ik heb er wat gewetensbezwaren bij …
Het ivoor is 'afval' dat ik kreeg via mijn mama. Zij bracht het mee van een bezoek aan het Elfenbeinmuseum in Erbach, Odenwald (Duitsland). Het zijn de resten na het maken van de ivoren kralen. De stad Erbach heeft een  historische band met ivoor. De voorraden mochten verder worden verwerkt, ook na het verbod op de handel in ivoor in 1989. Er wordt nu ook gewerkt met plantaardige alternatieven (ivoorpalm, corozo, tagua, …).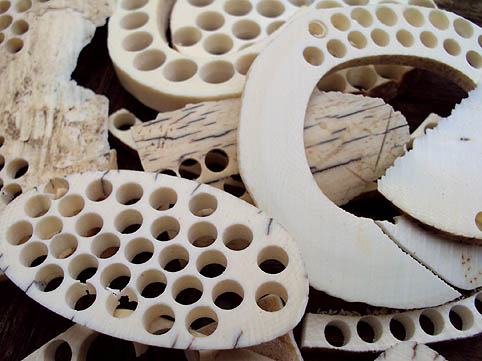 (tussen haakjes: het woord 'elpenbeen' bestaat ook in het Nederlands, wel verouderd, maar een leuk woord, vind ik)
Ik associeer ivoor met Afrika (ook al kan het van Azië of Groenland komen). Vandaar mijn keuze om dit prachtige materiaal uit te kiezen als derde item/inspiratiebron voor ons project. Wat Mariemoo! er van vond, kan je hier lezen.
Bijkomende opdracht: het moet een broche worden. Die beperking (of noem het liever uitdaging) bouwde ik vooral in, omdat ik er zelf zelden toe kom om broches te ontwerpen 😉 Nu moet het er dus gewoon wél van komen.
En nog meer exotisme in dit 'cocktailbericht'. Mijn eigenste African Diva's cocktail :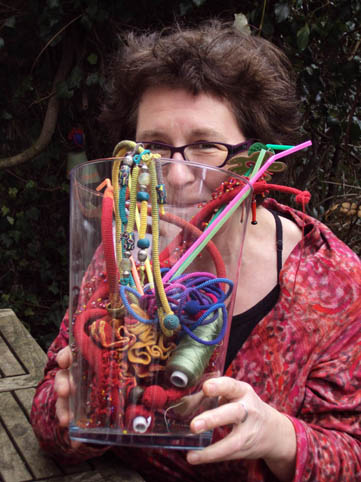 Wie goed kijkt, kan in deze cocktail fragmenten zien van een aantal van mijn African Diva's in wording …
Last week I sent the third item to Mariemoo! I have mixed feelings on this ivory, yes I sent real ivory to her! I got if from my mum, who got it when visiting an ivory museum in Germany. You can read more in this ivory industry and museum by clicking here. For historical reasons, the city of Erbach was allowed to continue working with their ivory stock, even after the worldwide ban on trading ivory. The city now also works with vegetal substitutes for ivory (corozo, tagua, …).
You can read Mariemoo's reaction on this item by clicking here to go to her blog.
Watch carefully: in my large cocktailglass you can see fragments of some of my African Diva's necklaces that are about to be finished …