(English text below)
De Krobo is een bevolkingsgroep die in de gebergten wonen langs de kust van Ghana (West-Afrika). Ze zijn reeds eeuwen gekend voor het maken van glazen kralen. De kralen zijn soms echte familiestukken en vervulden, naast hun rol als 'trade-bead (handelskraal, een vorm van geld dus), ook een functie bij overgangsrituelen, begrafenissen, huwelijken, …
In grote lijnen, zijn er drie soorten. De grondstof is voor alledrie dezelfde: gerecycleerd glas.
Hier zie je de drie soorten op een rij : van links naar rechts de heldere/transparante kralen, de poederglaskralen en de beschilderde kralen. De kralen op deze foto komen uit mijn collectie (dat klinkt nogal hé .. ;-)) en het is de bedoeling ze te verwerken in de African Diva's reeks.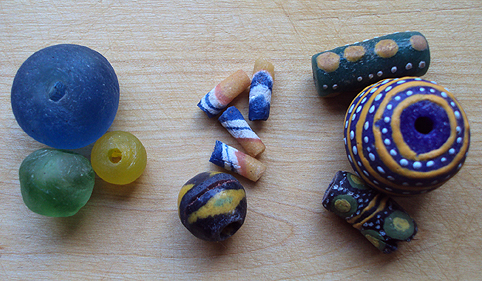 Het productieproces van deze 'adiagba' (naam die ze zelf aan de kralen geven) gaat als volgt:
Flessen en ander glas worden in kleine stukjes gebroken, dit is de grondstof voor de heldere kralen.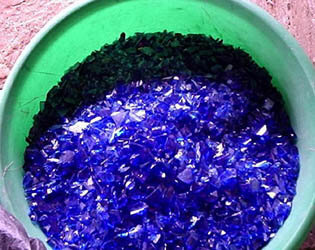 Voor de poederglaskralen worden deze stukjes nog verder gemalen in een mortier. En bij deze poeder wordt keramiekverf gevoegd, om allerlei kleurtjes te bekomen.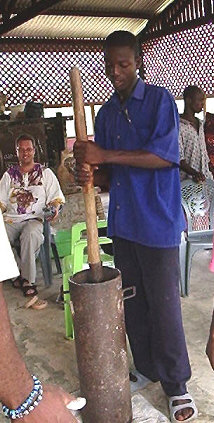 De glazen grondstof wordt dan in kleien vormen gegoten. Deze vormen maken ze ook zelf en worden ingesmeerd met kaoline (opdat het gesmolten glas de kraalvorm zou behouden ipv in de kleivorm te dringen).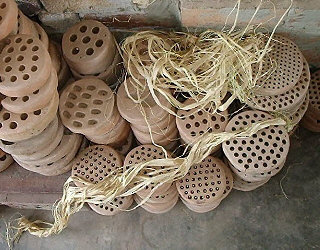 Het gat in de kraal wordt gemaakt door een takje van de cassave door de pasta te steken. Het stokje verbrandt bij het bakken en de kraal heeft een gat.
Dan worden de kralen gebakken in de oven. De baktijd hangt af van de temperatuur van de oven en de grootte van de kralen.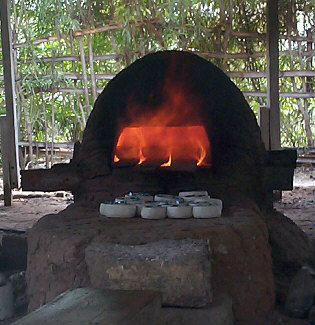 Na het afkoelen worden de kralen gewassen en gepolijst door ze over een weer te wrijven op een steen, met water en zand. Soms worden ze ook geölied, om ze hun natuurlijke glans terug te geven.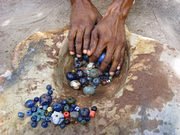 Voor de beschilderde kralen gaat het productieproces nog verder. Met een stokje wordt de verf (gemaakt van gekleurde poederglaspasta en water) aangebracht op de glazen kralen en gaat daarna opnieuw in de oven. In het Engels worden deze kralen 'writing beads' genoemd, beschreven kralen dus.
De productie van de kralen is veelal mannenwerk, het rijgen op katoenen touw en het verkopen op de markt gebeurt door de vrouwen. Ze worden geleverd op snoeren ter grootte van een armband.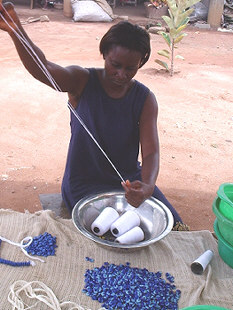 Ik zie drie kralen ook opduiken in het fairtrade circuit! Mooi!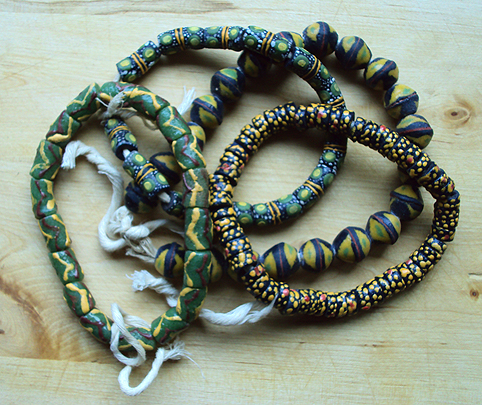 Klik hier om een fotoreportage te zien van het volledige proces van het maken van de glazen kralen.
Ik kom later terug met foto's van een snoer waarbij ik een aantal van deze kralen heb gebruikt.
Click here to see a photoreport of the entire process of making the glass beads.
For my English speaking readers I refer to the websites I mention here under. You'll find there detailed explanations and lots of pictures on the process of glassbeadmaking in Ghana.
On the first picture you see clearly the three kinds of Krobo-beads: translucent beads, powder glass beads and writing beads. Further on you see some pictures of the productionprocess of these beads.

Bronnen/sources:
www.eshopafrica.com ( o.a. een aantal foto's in dit bericht/ a.o. some pictures of this blogpost)
www.ghanacraft.com
www.globalmamas.org
www.bead-database.org
I'll be back later with a necklace where I used some of these beads.