(English text below)
Van bij aanvang van de samenwerking tussen Mariemoo en mij, waren er al plannen om samen het Koninklijk Museum voor Midden-Afrika in Tervuren te bezoeken. Goeie gelegenheid om eens wat plannen en verwachtingen door te praten én om inspiratie op te doen.
De hele week naar uitgekeken. Gisteren was het zover …
Een fotoverslag. Geniet mee:
Zo net na zonsopgang in Gent vertrokken in goed gezelschap (tot nu gewacht om 'Erik' te kopen … die wordt niet bij het oud papier gegooid ;-))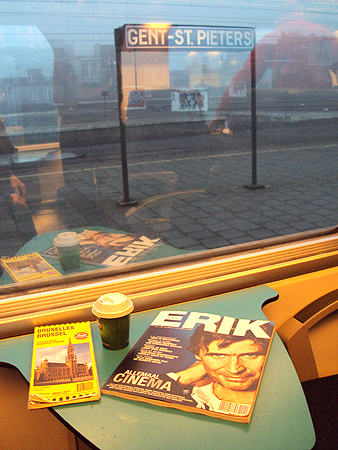 Een sprookjesrit met tram 44 van Brussel naar Tervuren. De tram rijdt écht door het bos … en dat terwijl de mist langzaam optrok ten voordele van de zon… ('k weet dat de foto's niet goed zijn, maar 'k wil vooral de sfeer overbrengen).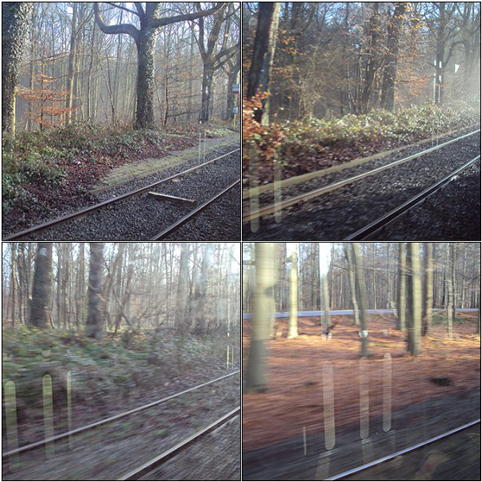 Zalige ochtendzon bij aankomst aan het museum: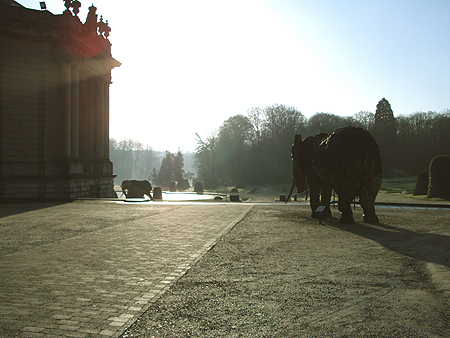 Koffiepauze/koffieklets/plannen maken/ inspiratie delen …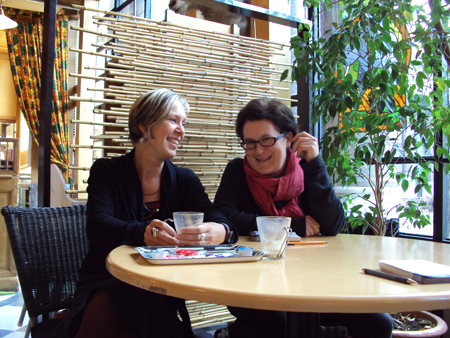 Inspiratie: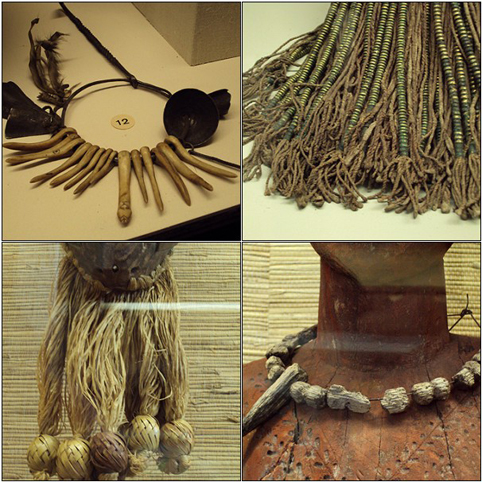 Wat me is opgevallen, dat inspiratie ook een deel bepaald wordt door het materiaal waar we beiden mee werken. Marie ging sneller naar statische en grafische vorm, ik ging eerder naar beweging en contrasten … Op dat vlak is die uitwisseling van 'items' wel leuk … je moet gewoon verder denken dan wat voor de hand ligt.
Wat ook leuk was: we lopen nogal met dezelfde ideeën van wat er in onze collecties  nog aan bod moet/kan  komen. Maar dat zijn voorlopig natuurlijk nog onze geheimpjes 😉
Marie had geen fototoestel mee, dus zijn er enkel mijn zotte foto's :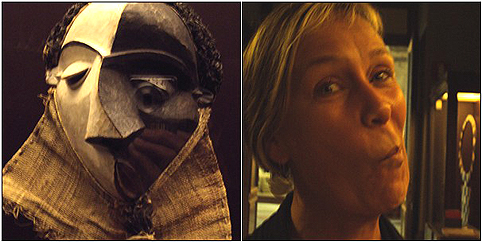 Echt geld (links boven : Achatina-schijfjes) , echte glazen kralen, echte tradebeads, echte tanden, ….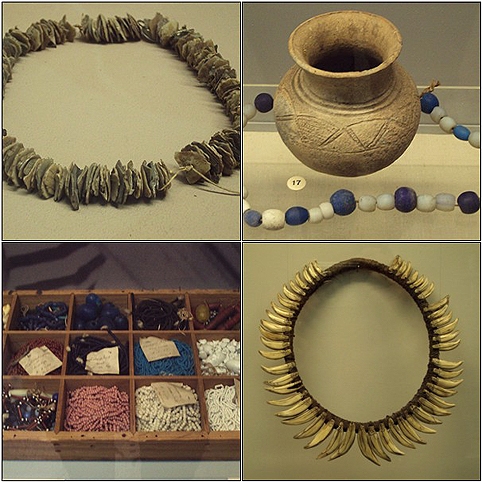 Nog een eet- en babbelpauze: Marie mét schetsjes. Wachtend op een heerlijk broodje en met een pintje: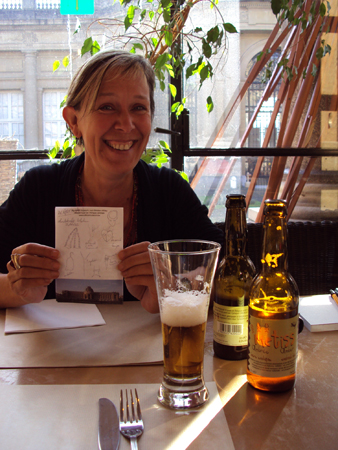 En terug naar huis met massa's plannen, massa's inspiratie  …. wordt nog héél lang vervolgd!
Marie (from Mariemoo?) and I went to the Royal Museum of Africa in Brussels yesterday. The aim was to talk our common project over and to gather inspiration in the museum.
Please enjoy the above picture-report.