(English text below)
Terwijl ik dit bericht zit te schrijven, luister ik naar Youssou N'Dour. Ook de CD van Manu Diabate is al een paar keer door mijn hoofd gereisd… Dé ultieme inspiratie is nog niet aangekomen. Maar 't is wel écht wijs om open te staan en te registreren wat voor gevoelens en beelden ik associeer met deze muziek: rust, golvend, kabbelend, repetitief, eenvoud, tevredenheid, ingetogenheid, klein ( de fijne kraaltjes zullen perfect passen bij het 'iets' dat nog moet geboren worden), …
Vandaag toon ik het eerste van de 'derivaten', ttz snoeren die op hun beurt zijn afgeleid van mijn grote African Diva's. Als ik ze ooit tentoonstel, probeer ik het pad van de inspiratie te tonen …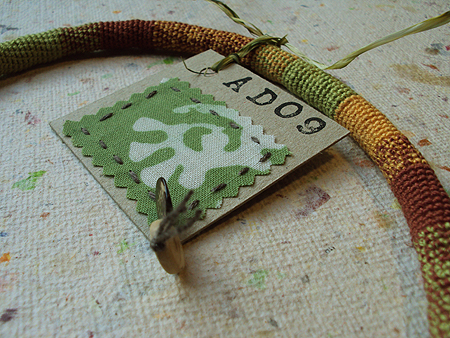 Dit snoer is een vervolg op AD 2 (klik hier om het betreffende blogbericht te lezen). De 'neveneffecten' zal een reeks snoeren zijn die kleiner, minder arbeidsintensief, draagbaarder, … zijn dan de hoofdsnoeren. Maar sowieso zal ik de Afrikaanse inspiratie er in bewaren.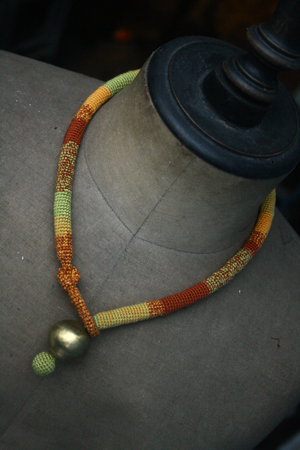 Dit snoer is vrij eenvoudig van ontwerp. Je kan het dragen met het slot vooraan of achteraan. Hier is het precies dit slot dat er een Afrikaanse zwier aan geeft . Een prachtige (ik denk geelkoperen) kraal  … als ik dit snoer zelf zou dragen, komt het slot sowieso vooraan!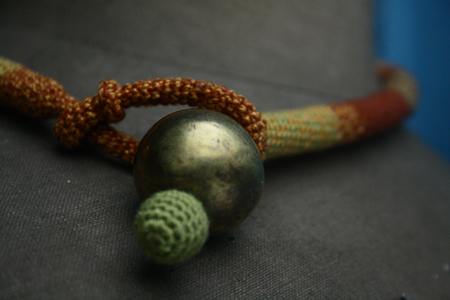 Vanaf hier kan je alle foto's van dit snoer bekijken.
Jawel, de grote kraal komt van Zahia. Zaaaalig is dat, er gaan snuisteren in de letterbakken, op zoek naar de ultieme grote kraal (ze moeten ook een groot rijggat hebben). Ik spring er regelmatig binnen op zoek naar … Het volgende snoer dat ik zal tonen heeft ook een Zahia-slot … Blijven kijken dus! 😉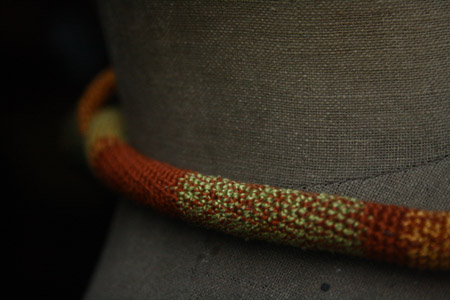 While writing this blogpost, I' m listening to the Senegalese singer Youssou N'Dour … (read my previous blogpost) . Up to now I've not had the ultimate inspiration. But listening to these two CD's I got from Mariemoo, gives me the following atmosphere: quietness, rest, repetition, small, details, reflection, content, … to be continued!
Today I want to show you the first of my byproduct necklaces. These necklaces are inspired by one of the main AD's collection, but they are smaller, less work, more wearable, …
This necklace is a sequel to AD2 (click here to read the concerning blogpost).
I do want to keep an African flair in these necklaces though. In this one, it is the clasp that makes the finishing touch. It is a big (I think yellow copper) African bicone bead.
Of course you can wear the clasp of the necklace in the back, but I would surely wear it in front!
From here onwards, you can see more pictures of this necklace.

The following necklace I will show you will be about the same design. And it has also a beautiful African bead I bought in my favourite bead shop Zahia.