(English text below)
Marie is terug en dat heb ik geweten. Leuk! Met behulp van een collega die is getrouwd met een Gambiaan, worden er nu smsjes gestuurd in het Wolof ;-))
Nagadeff? (hoe gaat het met je?)
Manjeefie! Djeredjef! (goed, dank je)
En item nummer twee van ons project is vandaag bij mij thuis gearriveerd. Mmmmmm … 't zou Marie niet zijn, of het was weer superverzorgd en uitgebreid: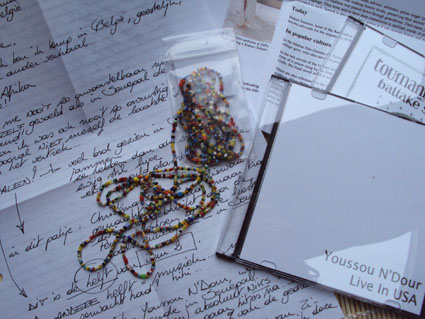 – een lieve lange brief
– twee zakjes christmas tradebeads (de kraaltjes komen wel uit Ghana, maar ze worden in Senegal gebruikt door de Peul bij grote feesten)
– twee CD's: eentje van Youssou N'Dour en eentje van Toumani Diabate
– uitleg over 'griots', de vertellers uit de Westafrikaanse cultuur
Het is de bedoeling dat bij het beluisteren van deze muziek, ik inspiratie krijg om iets te doen met die kraaltjes. 'k Ben zelf heel nieuwsgierig wat er in mijn hoofd zal gebeuren de volgende dagen …wordt dus vervolgd!
En nu is het weer mijn beurt om iets op te sturen … ik heb al een ideetje!
* Napnala is Wolof voor 'ik zie je graag'.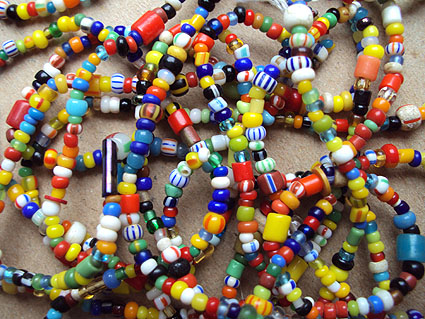 Marie from Mariemoo! is back in town. Today the second item of our common project arrived.
I'm so happy with it. She sent me two strands of small trade beads. They're made in Ghana, but the Senegalese Peul-people use them on the occasion of important festivities.
She also added twee CD's : one of Youssou N'Dour and one of Toumani Diabate.
The aim is that I get inspiration for designing something using the tradebeads, while listening to the music. I'm very curious myself, to what will be happening in my head trying this out. To be continued …
* Napnala is 'I love you' in Wolof language.