(English text below)
Op mijn vorige bericht kreeg ik onderstaande charmante, leuke reactie. Mijn antwoorden staan cursief.
* slaap jij wel 's nachts ? Ja, ik slaap 's nachts. Alhoewel niet altijd even goed, maar ik lig niet nerveus te worden in mijn bed omdat ik weer te vroeg wakker ben. Ik sta op en , jawel, ik haak.
* heb jij een gesofisticeerd haakmachientje uitgevonden ? Ik heb geen haakmachientje. Maar ik lijk er soms zelf wel eentje 😉
* gaat er een cloon in jouw plaats uit werken ? Ik ga zelf uit werken. Maar ik heb het geluk dat ik op nauwelijks 10 minuutjes fietsen van mijn bureau woon. Dat betekent dus veel tijd!
* haakt je man ook mee ? Mijn man haakt niet mee. Hij kan wel haken! Hij werkt halftijds 's nachts en doet het grootste stuk van ons huishouden… Da's geluk hebben!
* lopen er bij jou thuis kaboutertjes rond ? En er lopen ook géén kaboutertjes bij ons rond.
Afgelopen weekend heb ik haast niks gehaakt, maar wel gekookt : dessertjes voor het nieuwjaarsaperitief voor de buren.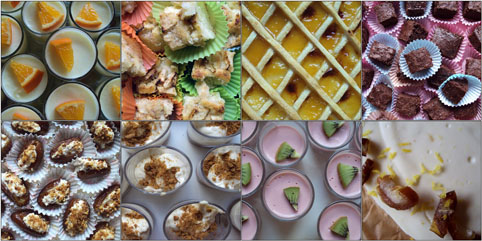 Maar eind vorige week en begin deze week , ben ik bezig geweest voor mezelf een snoer te haken. Ik vertelde al van mijn aankopen bij Nathalie Engels, en hoe goed één van mijn African Diva's snoeren paste bij de rok (dit bericht kan je hier herlezen). Van dezelfde kleuren zijde, heb ik  nu een asymmetrisch snoer gehaakt om samen met de bewuste rok te dragen.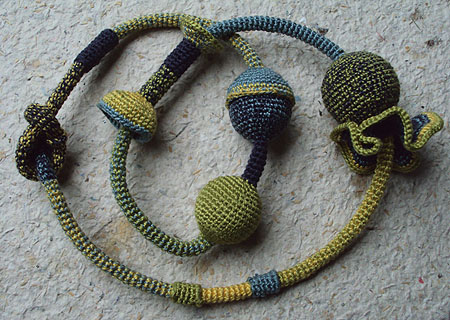 En ik heb er al mee 'geparadeerd' 😉 Het rokje met groene cache-coeur, mijn superwijze laarzen en het snoer. Zelfs in mijn grijze werkomgeving ontlokte mijn outfit commentaar …
Dit ontwerp blijft mij ook boeien. Ook al zit het in dezelfde richting als de eerdere asymmetrische snoeren, het is nooit vervelend. Het heeft waarschijnlijk te maken met de afwisseling: eerst het basissnoer waarbij ik al een aantal bollen verwerk. En dan alle losse stukjes, steeds weer anders.
Alle full size foto's van dit snoer zijn te bekijken vanaf hier.
I got a very charming funny comment to my last blogpost. I'll translate is for you, my answers are in straight letters.
* do you ever sleep? Yes, I do. But when I'm awake much too early I don't stay in my bed getting nervous. I get up and start crocheting, which relaxes me.
* do you have a clone working instead of you? No, I don't, but my work is only 10 minutes biking from my home. So, I gain a lot of time.
* do you have a crocheting machine? No, I don't, but sometimes I'm one myself ;-))))
* does your husband crochet? He knows how to, but he doesn't help me. But, as he works halftime he's the one that does most of our household. So, this gives me a lot of spare time. Lucky me!
But I don't crochet all the time. Sometimes I spend a whole day making desserts, as you can see on the first mosaic. They were intended for a new year's gathering of all the neigbours.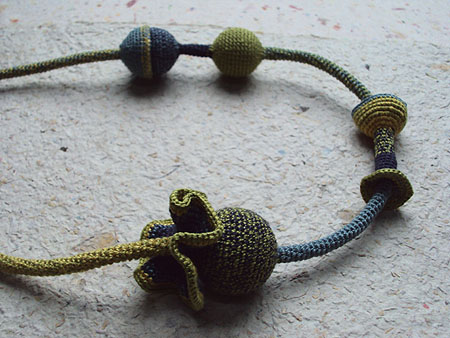 And yes, of course I crocheted the previous days. I made a necklace for myself, to fit with my new skirt and boots. I told you before about the lovely fabric of this skirt, you can reread the concerning blogpost here.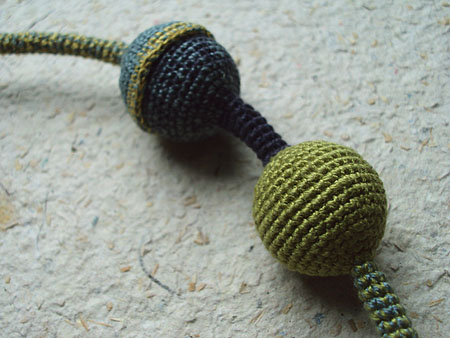 Although I've been crocheting this kind of asymmetrical necklaces before, it's still not boring!! 😉
You can see all the full size pictures of this necklace from here onwards.