(English text below)
Zeven African Diva's kregen jullie inmiddels te zien. Op dit moment weet ik nog uit mijn hoofd in welke volgorde ze ik heb gemaakt. Maar de collectie wordt elke week ruimer en ik geef ze voortaan een genummerd label mee.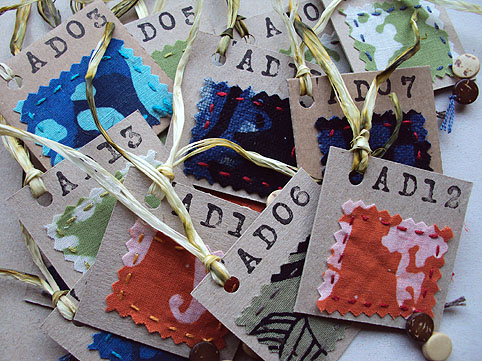 De Afrikaanse gedachte getrouw, heb ik tags gemaakt van gerecycleerd materiaal.
De kartonnetjes bracht ik mee van mijn werk. Het wordt ter versteviging meegeleverd bij verzending van losbladige tijdschriften.
De stofjes zijn resten uit mijn grote voorraad. Ik naaide de stofjes op het karton met restjes zijden draad. De nummer van het AD-snoer is gestempeld.
De raffia is bewaard van een geschenkverpakking. Ik haakte er reeds eerder een broche mee, het betreffende blogbericht kan je hier lezen.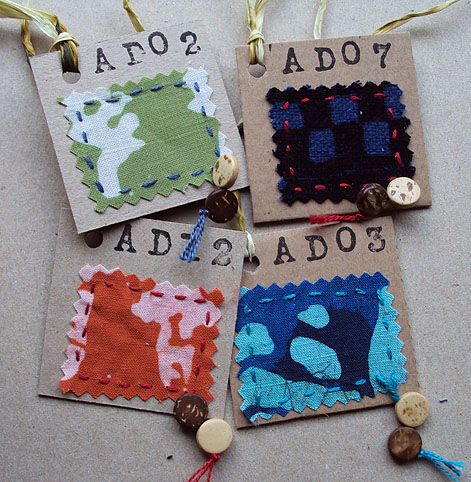 En dit is de achterkant: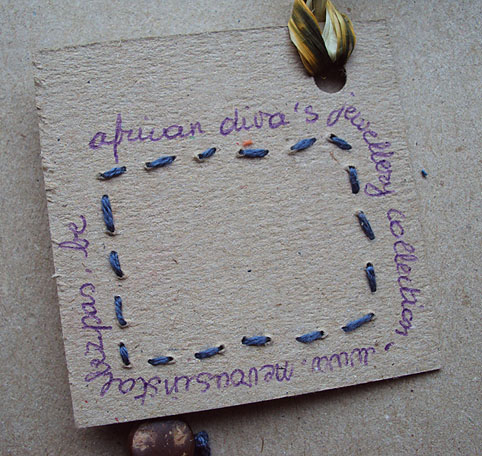 Nostalgie: ik werkte reeds eerder met dat karton van mijn werk. Toen onze zoon geboren werd in 1992 (ja, hij wordt achttien binnenkort), heb ik alle geboortekaartjes zelf gemaakt. Stempels, kopies op kalkpapier, gerecycleerde touwjtes, …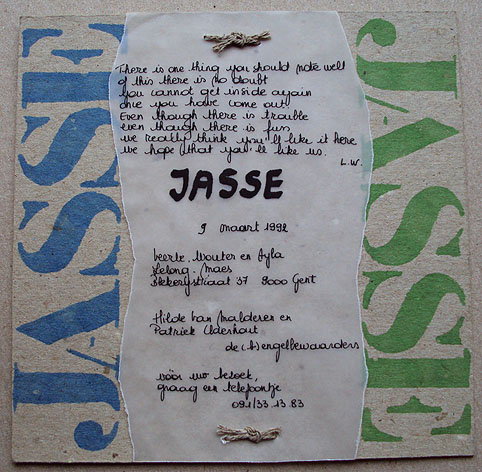 Up to  this moment I've shown you seven African Diva's necklaces. I still know by heart now in what order I made them.
But, as this collection is weekly expanding, I decided to tag them.
Faithfull to the African idea of recycling, I made this tags with recycled materials. I brought the cardboard from my office (where it is thrown away), I picked some African fabric rests from my huge stack of tissues.
The raffia is a rest from a gift wrapping. I used this raffia before to crochet a brooch. Click here to check the concerning blogpost.
The last picture is the birth announcement of our son, where I used this same cardboard from my office. I made all these cards stamping and photocopying …