(English text below)
Vier en een halve meter palmnoten en gehaakte kralen zijn klaar! Wat was het leuk om hier aan te werken. Mij ooit al iets anders horen zeggen als het op haken aankomt? ;-))
Wil je graag nog eens de blogpost over de voorbereiding van dit African Diva's-nummer-zeven-snoer lezen, klik dan hier.
't Was mijn bedoeling een overdadig snoer te haken, met echt veel strands. En het is uiteindelijk zo lang geworden, dat het  kan getransformeerdtot een multi-strand snoer (drie strands, vier strands, of meer) . Bovendien heeft het ook een slotje en is het veelvuldig kort rond de hals dragen ook mogelijk.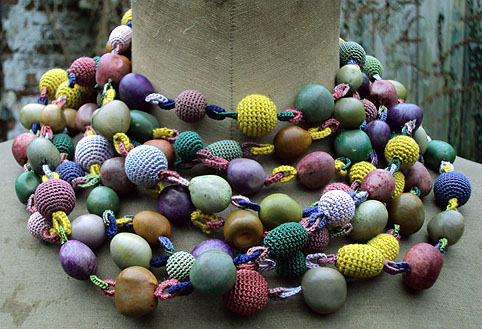 En het kan ook speelser. Inspiratie genoeg. Voor het draperen van zo'n lang snoer, kan je ook nog 'ns gaan kijken op de website van Lievandrie. Daar zie je hoe zij haar porseleinen snoeren laat dragen.
En zelfs mannen (Maasai krijger) kunnen mij in deze inspireren 😉 (de foto komt uit het boek 'Africa Adorned' van Angela Fischer) :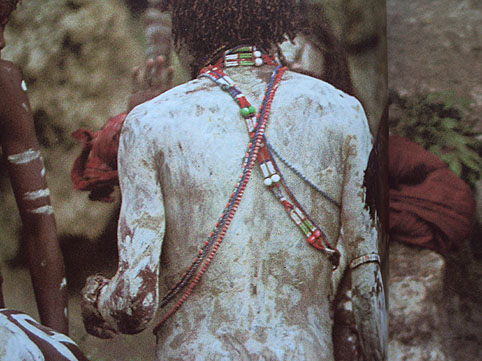 Mijn snoer gedrapeerd en gezien vanop de rug: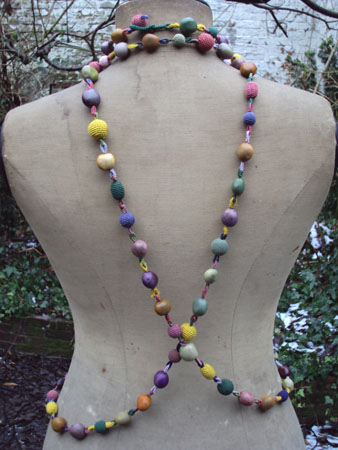 En dit is dezelfde drapage maar frontaal gezien: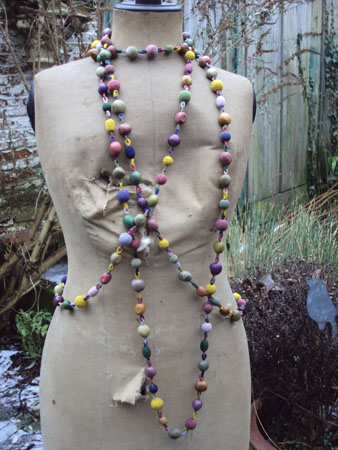 Hieronder nog wat details. Alle foto's van dit snoer zijn te bekijken op de fotopagina van mijn website, vanaf hier.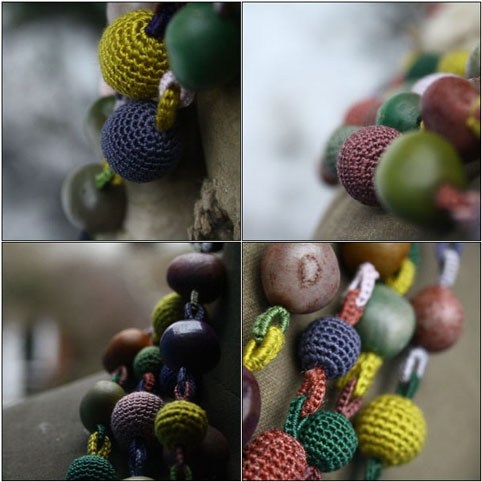 Four and a half metres (almost five yards) of palmnuts and crocheted beads is ready. It was so nice working on it. Did you ever hear me say anything else when talking about crocheting? ;-))
If you want to reread the blogpost on the preparation and inspiration of this African Diva's necklace, please click here.
This is really a long necklace. I really wanted something great, rich of beads. Judge by yourself watching my pictures. As it has a clasp, it's also possible to turn it lots of times around your neck.
For inspiration how to wear such a long necklace, please check Lievandrie's site where she shows how to wear her gorgeous porcelain necklaces.
And even men (a Maasai warrior) can inspire me (the picture of the East African man comes from Angela Fisher's book 'African Adorned'). Further on you see how my necklace could be worn in a identical way.
The mosaic show some details of this necklace. For all the pictures, please check my website from here onwards.