(English text below)
Gent zit vol talent,  dat mag wel al duidelijk zijn!
Hier is er nog eentje: Els van Poucke. Deze vriendin is een gepassioneerd steenkapster. Lang opleiding gevolgd aan Sint Lucas, en nu toch al een mooi deel van de droom waargemaakt: halftijds een reguliere job en halftijds steenkappen.
Ik klop soms wel eens bij haar aan om gepersonaliseerde cadeaus te laten maken.
De eerste bestelling ooit, was gewoon voor mezelf. Toen ik in 2006 mijn eerste tentoonstelling had in de galerie van Ingrid Adriaenssens, liet ik door Els een steen kappen met mijn motto. Meer foto's van die bewuste tentoonstelling kan je zien vanaf hier en hier.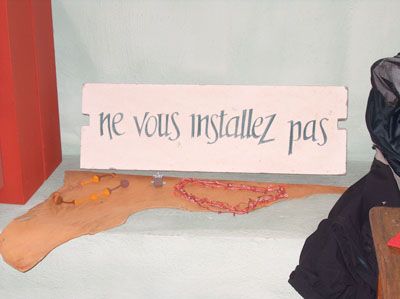 Ondertussen staat die steen al een paar jaar in onze tuin. En nu, na de herfst en volop winter zijnde, ziet hij er zo uit.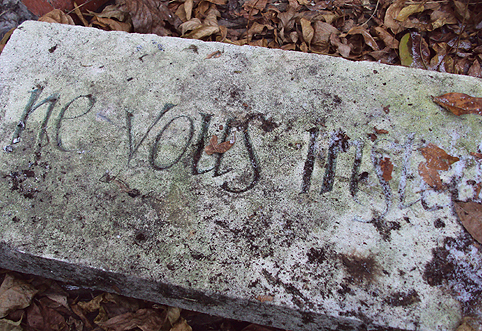 Els weet ook altijd te vertellen waar de steen vandaag komt. Die van mij komt uit een Brugse kapel die werd afgebroken. De stenen hieronder komen van de kust aan Cap Griz Nez.
Onderstaande cadeaus illustreren dat Els niet enkel een goeie steenkapster is, maar ook een goeie ontwerpster. Ze maakt van elke opdracht iets bijzonders.
Deze steen gaf ik cadeau aan Ann en Kebba ter gelegenheid van hun huwelijk: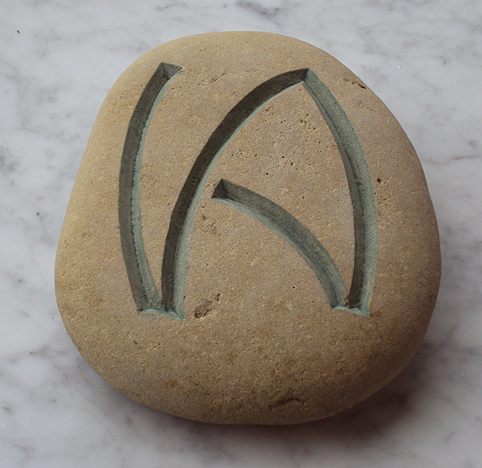 Dit is voor de geboorte van de kleinzoon van vrienden: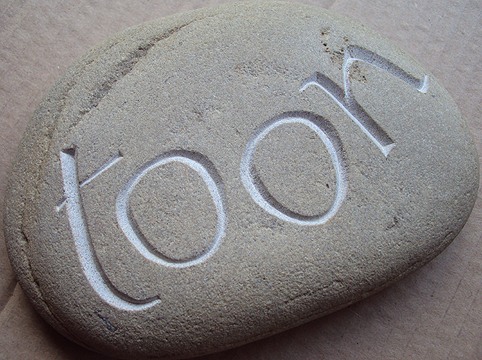 En deze is voor Febe, de jongste telg uit mijn schoonfamilie. Febe werd geboren pal op de verjaardag van haar overgrootmoeder, samen met dochter en kleindochter vormen ze een viergeslacht.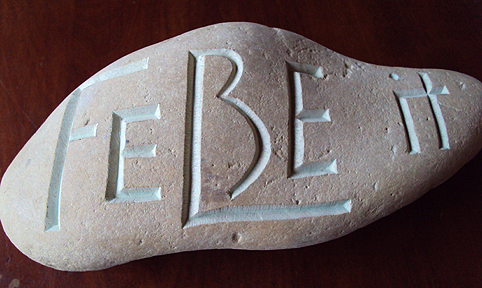 Je ziet in het ontwerp ook de initialen verwerkt van de mama en de papa (Inge en Tim). En samen vormen ze meteen ook de boodschap …be it!
Mocht iemand van jullie interesse hebben in Els' werk, kan je haar contacteren via mij (comment op deze blogpost of e-mailadres rechts bovenaan).
p.s. zoonlief is inmiddels aan het werk gezet om AD's te fotograferen. Ze komen in de loop van de volgende week/weken op deze blog. Ik heb nu, noodgedwongen, toch weer extra tijd: door de Eurostar problemen hebben we uiteindelijk beslist onze trip naar Londen van morgen en overmorgen, uit te stellen…
The place where I live counts a lot of talented people, as you may have read in previous blogposts. Some are known, others still work in the shadow.
One of them is Els Van Poucke, a friend of mine, who's a stone cutter (which she does as a profession part time).
I love to order stones with her to give them as a present for a birth or a wedding.
But my very first order was a stone for myself. I had my motto (ne vous installez pas) cut in 2006, when I had my first 'real' exhibition. More pictures of this exhibition you can see from here and here onwards.

As you can see Els is not only a stone cutter, she's also a designer and a calligraphist.
You can see on the pictures a wedding present for Ann and Kebba, a birth present for Toon and the last one is a birth present for Febe.
Febe is the great grandchild of my parents-in-law. She's the fourht girl in a row (my mother in law, her daughter, her granddaughter and now there is Febe). Also look at the right part: these are the initials of Febe's parents: Inge and Tim. And together they form the message: … be it.
If anyone would be interested in Els' work, you can contact her via my mail-address or bu commenting on this blogpost.