(English text below)
Wie ook de blog van Fleurfatale volgt, heeft reeds kennis gemaakt met de kledij van ontwerpster Nathalie Engels. Fleurfatale maakt voor Nathalie een juwelenlijn  die wonderwel aanleunt bij haar stoffen en ontwerpen.
Nathalie Engels heeft sinds vele jaren een eigen kledinglijn (vroeger onder de naam Hoela Hoep). Constante in haar werk is de eigenzinnige, bijzonder mooie en originele stoffenkeuze.
Tijdens de koopjesperiode spring ik er al eens binnen. Afgelopen zondagnamiddag met een mooie oogst naar huis gekomen.
Ik had er eigenlijk niet bij stilgestaan, maar toen ik mijn nieuwe kleren begon uit te pakken aan de tafel waar ook nog een onafgewerkt African Diva's halssnoer lag, werd ik toch even gepakt. De stof van mijn rokje en het snoer waren in precies dezelfde kleuren. Echt mooi!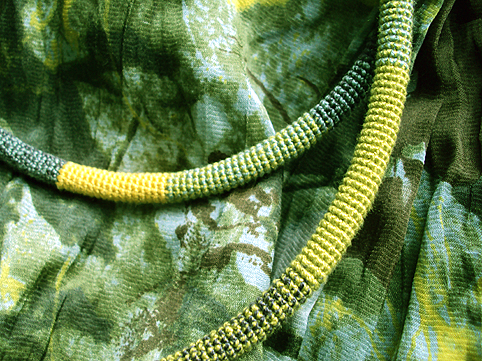 Ik ben inmiddels al begonnen met een 'gewoon' snoer in diezelfde kleuren, dat ik dan bij die rok wil dragen. En dan ook nog weten dat ik er een paar laarzen in petroleumblauw heb bijgekocht … watch me in mijn nieuwe outfit ;-))))
Niet alleen het rokje harmonieerde mooi, ook een cache coeur van Nathalie kleurde wonderwel bij een snoer dat ik vroeger haakte.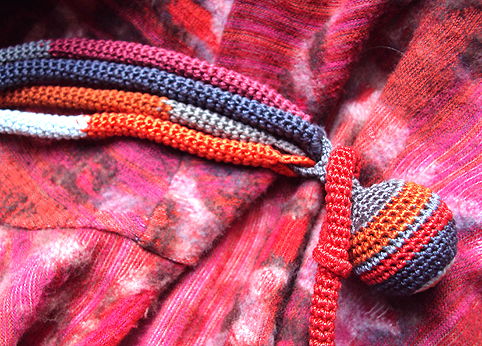 Eén van de volgende dagen, volgen foto's van mijn  laatste AD snoeren. Moet zoonlief nog eens aan het werk zetten. Ik heb inmiddels nog vijf AD's afgewerkt die jullie nog niet zagen. Flink gewerkt, al zeg ik het zelf 😉 Er zal weer gefluisterd worden dat ik 's nachts haak …
For those who also follow Fleurfatale's blog, Nathalie Engels' clothing line is not new. Fleurfatale designs a jewellery line especially to fit harmoniously with Nathalie's cloths.
Nathalie always uses very original and beautiful fabrics for her designs.
Last weekend (sales!) I popped in and came back home with quite some new things for my garderobe. I did not realize it at first, but the colour combo's in the fabrics match perfectly with some of my necklaces (see the pictures).
The necklace in blue/yellow/green shades is one of the African Diva's collection. But IÂ  started crocheting another necklace in these same colours, to wear together with my new skirt. Watch me!
One of the following days I will post pictures of five more AD necklaces I finished recently … keep coming back to my blog!