(English text below)
Lieve lezers!
Aan jullie allemaal stuur ik de mooiste wensen, de mooiste dromen, de mooiste plannen voor 2010!
Voor de foto verzamelde ik een deel van mijn eigen dromen en plannen: materialen voor het grootse African Diva's project. Het zal als een rode draad door 2010 lopen.
Geniet van 't leven en van de energie die opborrelt bij het creatief bezig zijn!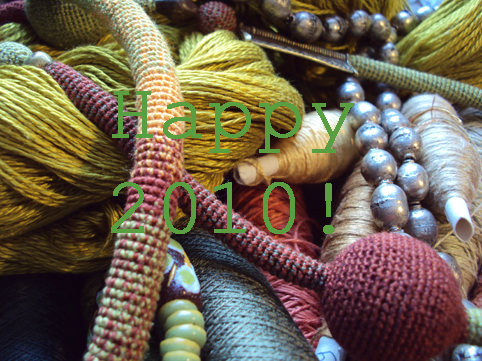 Dear blogreadersi
I send you all the most beautiful wishes, the most beautiful dreams, the most beautiful plans for 2010!
I gathered some of my own dreams and plans for the above picture: these are all materials for the big African Diva's project I hope to realize in 2010.
Enjoy life as much as possible and do the most interesting things with all the energy that emerges when being creatively busy!