(English text below)
Vandaag de eerste sneeuw in Gent, wat mooi! En ik heb bovendien een vrije dag, lucky me! Ik ben al wat gaan buiten wandelen, de sneeuw kraakte heerlijk ( het geluid is absoluut vergelijkbaar met het geluid van zijde)
Herinner je het Etsy-spel van rond pasen: toen kwam de Secret Easter Bunny langs! Mitsy van Artmind verzamelt alle Etsians die wilden meedoen en elk van ons krijgt dan een 'slachtoffer' toegewezen voor wie we dan een cadeautje maken en opsturen. Hier en hier kan je herlezen wat ik rond pasen daarover schreef.
Nu is het dus de tijd van Secret Santa! Vorige week is het geheime pakje gearriveerd: een prachtig halssnoer van Mariemoo! (ik had haar opgegeven als favoriete Etsy-shop).
Mmmmmmm, ik ben er echt weg van! En ik vind de lengte van het snoer zo aangenaam om dragen, ga ik rekening mee houden bij mijn eigen werk. Dankjewel lieve Marie!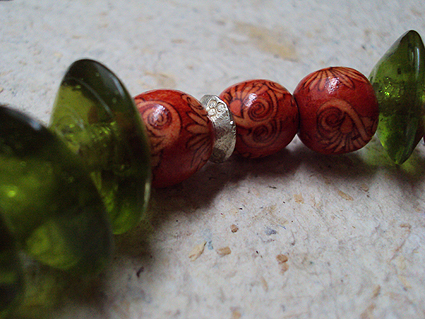 En nog meer cadeautjes: deze oude gehaakte handschoenen.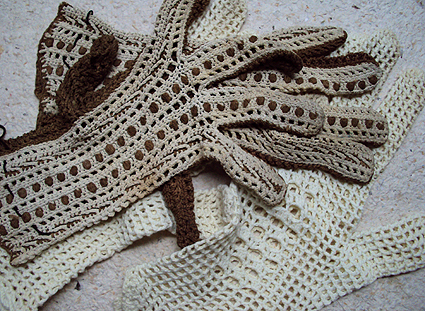 Vorige week gekregen van Moniek op weg naar Londen. Ze had ze gevonden in het huis van een overleden oude mevrouw. Ik vind vooral dat bruine paar bijzonder mooi. Ook al heb ik het al nauwgezet en van dichtbij bekeken, ik zou niet weten hoe ik die verschillende steekjes zou kunnen maken. Ik haak wel heel veel, maar enkel vasten. Nog heel wat te leren dus …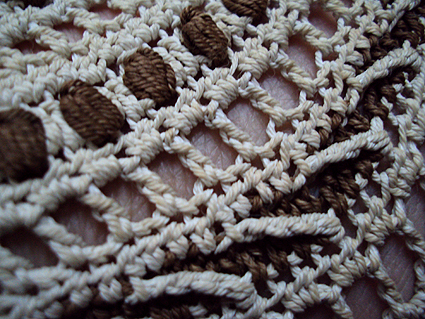 En geniet even mee van deze foto: de creatieve talenten van mijn beide kinderen verenigd.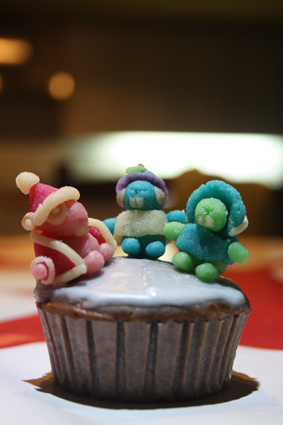 Dochterlief  is een verwoed Neopets-fanaat (een internetgame). Regelmatig zijn daar wedstrijden aan verbonden, je kan dan extra punten of personnages winnen. Voor deze opdracht moest een cupcake gemaakt worden, en versierd.
Dus bakte ze chocolademuffins, maakte glazuur, maakte zelf marsepein, kleurde die en boetseerde dan de minuscule ventjes die je bovenop ziet staan (ik schat dat ze ongeveer 2 cm hoog zijn).
En zoonlief maakt de alweer schitterende foto.
Blij met mijn kinderen dus!
Perhaps you remember the Secret Easter Bunny swap among Etsians. You can reread my blogposts on the Secret Easter Bunny here and here. Now is the time for the Secret Santa swap!
Lucky me!, I got this gorgeous necklace from Mariemoo! I'm so happy with it: my favourite colours and I especially like the length of the necklace. I should keep this in mind for my own projects.
On the pictures I show you another present: two pair of old crocheted gloves. Especially the ones with brown are superlovely. Although I'm a crocheteer I should not know how to make these stitches.
The last picture shows a cupcake with marzipan dolls on it. My daughter made it for a contest on Neopets (an internetgame). And it was my son who made the splendid picture. The creative talents of both my kids unified in one picture. Need I say more: I'm very happy with our kids!