(English text below)
Met het oog op de beurs in Wuustwezel volgend weekend, heb ik toch maar weer wat extra's zitten haken. en 't was bovendien nog plezant ook!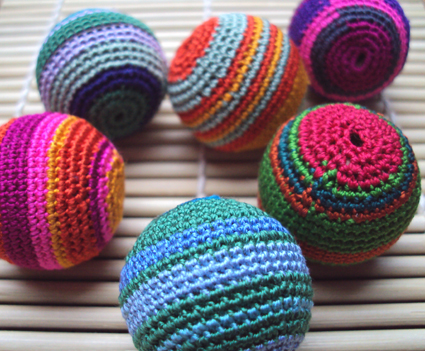 Een hele poos geleden heb ik al eens zo'n ballen gehaakt. Ik leverde ze toen met een heel pakketje aan kralen en een zijden lint … om zelf aan de slag te gaan. Hier en hier kan je de blogberichten lezen waar ik het over deze doe-het-zelf pakketjes had.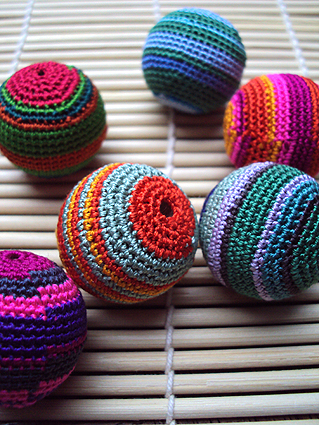 Nu nog meer van dat dus, maar niet meer als pakketje (alhoewel je er uiteraard zelf nog alle kanten mee uitkan), maar zelf geknoopt.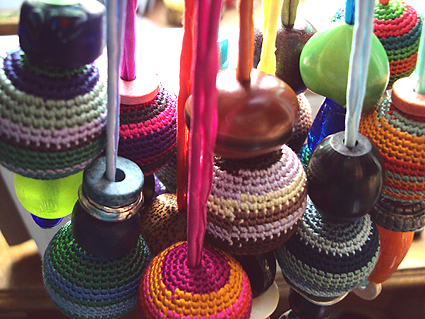 Voila, nog eentje.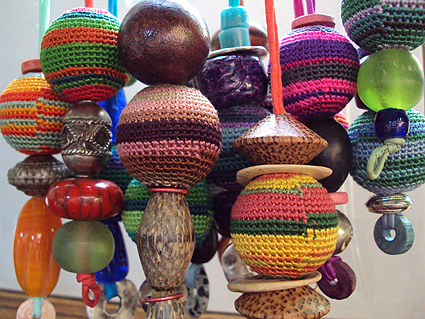 Met toch maar eens deze belangrijke boodschap. Ik toon je graag mijn werk. Als het je inspireert, maakt me dat zelfs gelukkig. Als  het gewoon gekopieerd wordt, maakt me dat verdrietig. Hoewel ik besef dat er een hele dunne grens ligt, tussen inspireren en kopiëren … Maar het is tezelfdertijd een uitdaging om er blijven voor te zorgen dat het origineel vernieuwt en beter is dan de kopie.
Speciale aandacht voor deze vier snoeren omdat er een hartelijke dankjewel bij hoort. Het linkse snoer heeft kralen uit Marrakesh (Marokko) – met dank aan Moniek!!! De drie rechtse snoeren hebben kralen uit Ethiopië, met dank aan creatieve 'zus' en feedbackvriendin Greet (Fleurfatale) en haar man (want het is hij die ze meebrengt).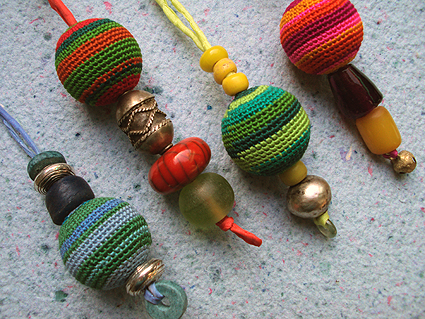 When I plan to attend a craftfair (which will be the case next weekend), I usually get new ideas for 'affordable' jewellery.
I crocheted these balls before, offering them in a bag, together with other beads and a silk ribbon. IÂ  blogged before on these do-it-yourself necklaces, you can re-read these posts by clicking here and here.
I really did like it to crochet all these balls. And am happy to show them to you.
The last pictures with the four necklaces need a thank you. Then one on the left, is made with beads my friend Moniek brought me from Marrakesh. In the other three necklaces ,I used beads from Ethiopia, a present from my dear creative 'sister' Greet (Fleurfatale). I thank you both a lot!!!!

The previous weeks I've discussed with several people on the 'dangers' of internet and being copied as a result of this. It's a very thin line, between inspiration and copy. When I inspire you, this makes me very happy. When you copy my work, this makes me sad. Although I know that there are as many perceptions on this issue as there are people. But at the same time it's my challenge to make that the original is always newer and better than the copy...