(English text below)
De workshop 'T-shirt yarn' staat nu op de website van het FairFashionFest!
Ik kan er nog bij vertellen dat de workshop  allicht zal doorgaan van 16u30 tot 17u30.  De groep deelnemers zal beperkt worden, maar je kan ook wel gewoon komen kijken.
Op een uurtje zal het niet lukken om iets af te werken. Ik speel met de idee om iets van een groepswerk te maken, maar daar moet ik mijn gedachten nog eens goed laten over gaan.
Waar ik ook mijn gedachten laat over gaan: misschien moet ik de workshop gewoon eens herhalen op een halve dag. Iemand goesting?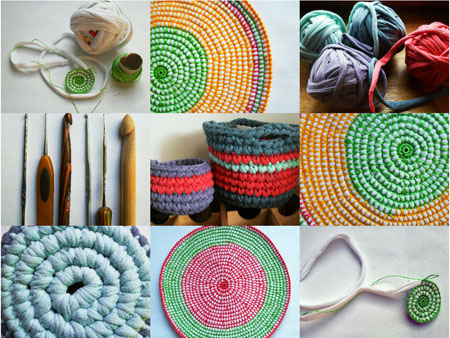 Ter illustratie van de workshop, prutste ik een collage in mekaar. Leuk om te doen . Dit is de website die het spelen eenvoudig maakt: www.collage.nl
Above some information on a workshop 'T-shirt yarn' I will be giving on the FairFashionFest in Gent, March 1st.