(English text below)
Voor de voorstelling van dit snoer, had ik in eerste instantie een blogbericht over (kleur)inspiratie in mijn hoofd.
Het is een snoer in regenboogkleuren, geboren aan de kassa van een supermarkt waar de doosjes Ricola-kruidenbonbons in een regenboograngschikking uitnodigend stonden te wezen.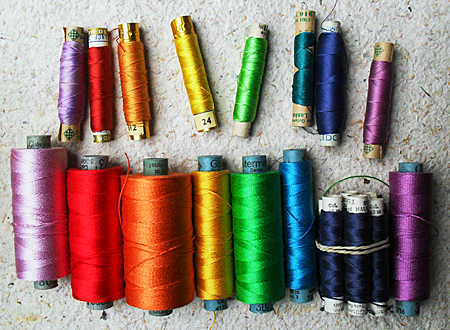 Gaandeweg kreeg de oorspronkelijke kleurinspiratie meer inhoud.
Op 17 mei ll., internationale dag tegen homofobie, werd aan het Gentse stadhuis de regenboogvlag gehesen. Gent, alweer, de solidaire stad om trots op te zijn!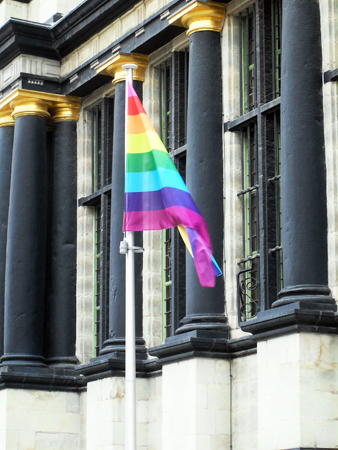 Anno 2013 mogen in Amerika homo's eindelijk bij de scouts, maar ze mogen nog niet in leiding staan – da's het compromis?? Anno 2013 blijven veel te veel Fransen nog steeds betogen tegen het inmiddels goedgekeurde homohuwelijk?? Ik begrijp dat niet.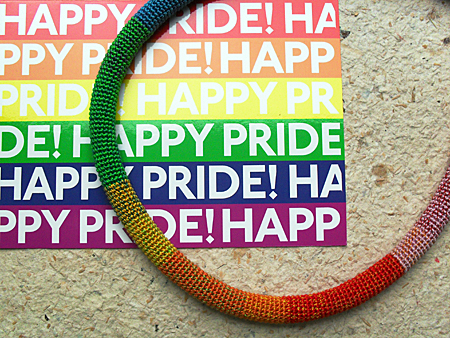 Voor mijn goeie holebi-vrienden, van Stockholm tot Gent, en voor alle anderen… respect!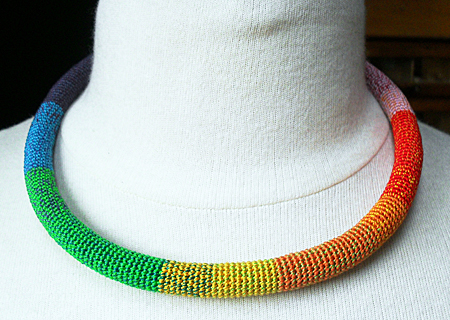 –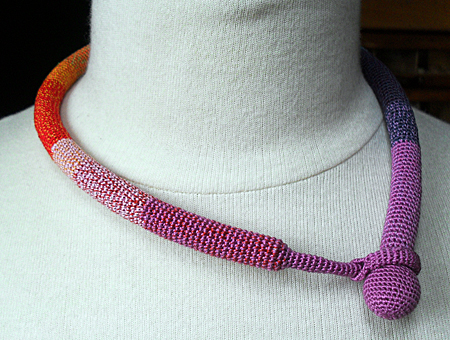 –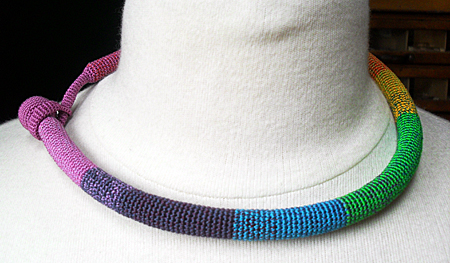 The colour inspiration for this necklace was born in a supermarket, when I saw the prefectly arranged Ricola-sweets, all in a rainbow sequence. My inspiration became day by day more a statement than a mere colour combo.

The rainbow flag is a symbol of the gay movement. The flag now shows in front of the cityhall of Gent, the place where I live.
Anno 2013, homo Amercian boys can at last join a boy scouts group, but still cannot be a leader ?? In France, some people keep protesting against homo marriage??. I don't understand this.
To all my gay friends, and all the others .. respect!