(English text below)
Wie heeft zin om mee te breien voor 't SMAK?
Vanaf 2 december loopt er RAAK, een kunsteducatieve  tentoonstelling. Het project draait o.a. over aanraken en voelen. De Nederlandse kunstenares Johanna Schweizer zal er 'iets' doen met haak- en breiwerk. Klik hier voor meer info over deze tentoonstelling.
Het SMAK is dus op zoek naar rechte gebreide of gehaakte lappen. Ze kunnen ten laatste binnengebracht worden op museumnacht op 1 december as.
Leuk toch! Dus nam ik een initiatief: we breien en haken op vrijdagnamiddag 4 november as op  Sjamma, Dampoortstraat 23. Je hoeft niet de hele namiddag mee te doen, even langslopen is ook mooi. Graag een bevestiging sturen naar nevousinstallezpas@hotmail.com.
Meebrengen: resten wol en je eigen brei/haaknaalden en wij zorgen voor koffie en zo. Welkom voor een gezellige namiddag samen!
Dit is Ann van 't SMAK met haar mobiele breiatelier. De foto is genomen op de Kunstsuperette van onlangs: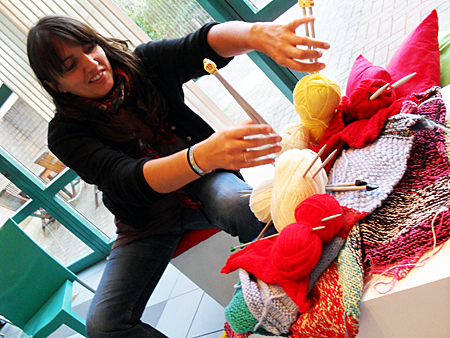 En ik ben ook al begonnen. De foto is gisteren genomen: de enige zonnige dag hier in de Ardèche waar ik nu even vakantie neem.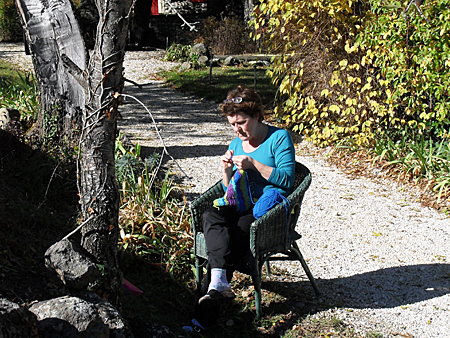 En dit is mijn eerste lapje. Wat een verschil: dit is gehaakt met een nummer drie, terwijl ik een nummer één gewoon ben 😉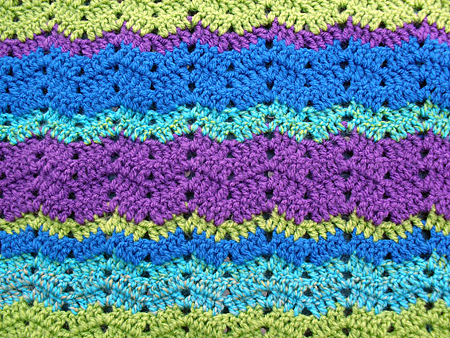 Misschien tot volgende vrijdag dus!
This post is about a project that will take place in the SMAK museum in Gent. I organize a knitting/crocheting afternoon to make stuff for the piece of art that will be made by the Dutch Johanna Schweizer. Hope I will be able to show more pictures later on.