(English text below)
Heerlijk toch, maar blijven fantaseren, ontwerpen en kleurencombinaties uitvoeren die waren opgeborreld bij het werken aan een vorig snoer … Herkenbaar?
Hier is er nog zo eentje: zowel de schijfkraal als de zijdecombinatie-die-lijkt-op-tweed. Als je begint te werken met zelf samengestelde draden, blijven de kleurencombinaties onuitputtelijk.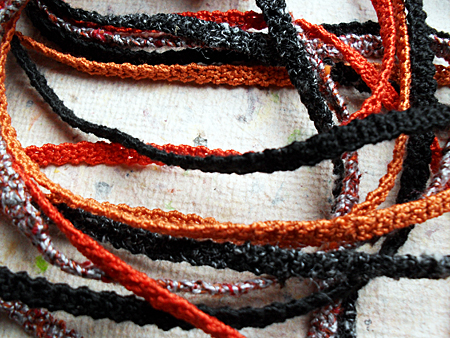 Een lang snoer, asymmetrisch: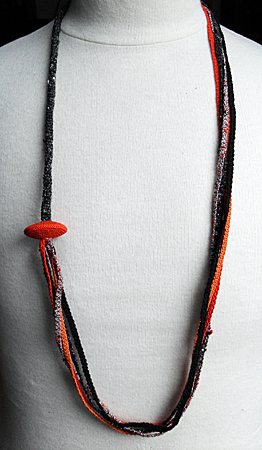 Tweemaal rond de nek, vind ik minstens zo mooi. Ofwel alle gehaakte lintjes parallel naast mekaar: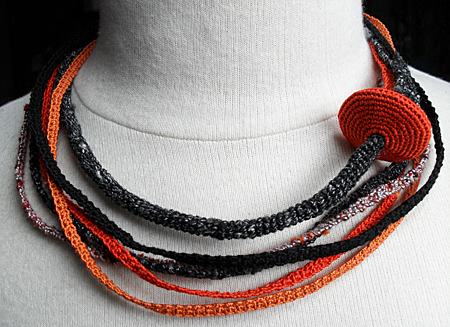 Ofwel de lintjes getorst: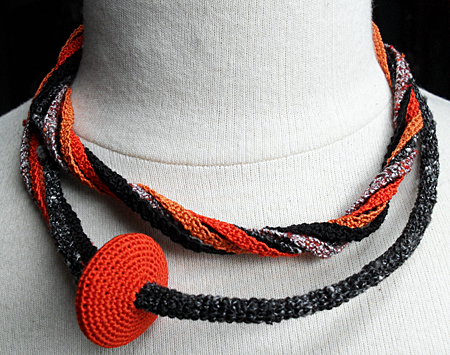 Ooooh, how I love to combine yarns to make new colour combo's! You probably recognize this: when working on a certain design, lots of new ideas pop up. It's a never ending story, luckily it is!
This long necklace is again a tweed-a-like … Watch the pictures to see how you can wear it. And there are more to come!