(English text below)
Geleidelijk aan komt mijn grote haakgoesting terug 🙂 Een groot project of een nieuw thema diende zich nog niet aan.

Ik amuseer me wel met kleine reeksen te maken, op dit moment werk ik met de kleuren zwart en rood. Zwart/rode juwelen zaten nog niet vaak in mijn collectie. Dat had vooral te maken met gebrek aan materiaal in die kleuren. Nu heb ik wel één en ander in huis … aan de slag dus.
Hier is een eerste ontwerp. Een eenvoudig lang snoer met één kleuraccent.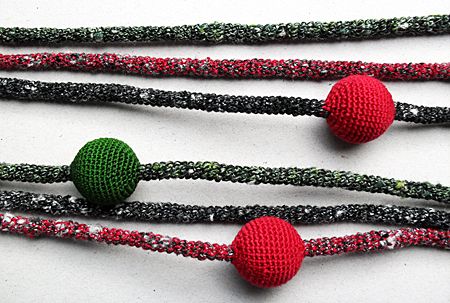 Het snoer is lang genoeg om er mee te spelen. Dubbel dragen, twee snoeren samen dragen, het snoer knopen …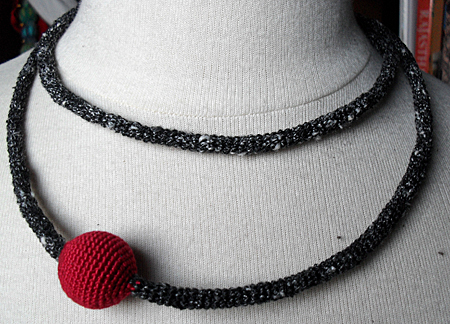 –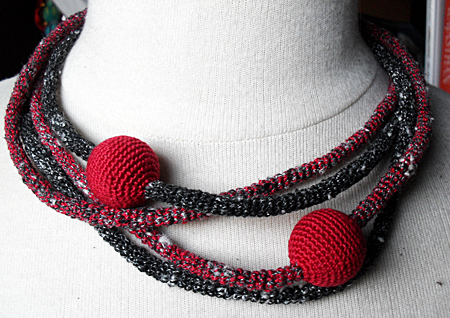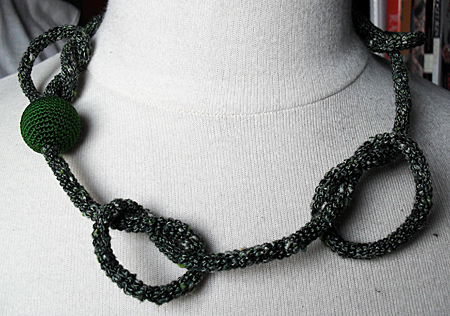 Bij deze drie snoeren heb ik gewerkt met een structuurdraad. Hij ziet er uit als een wollen tweed, maar het is wel 100% zijde!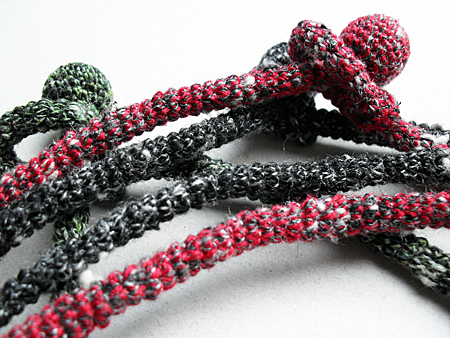 I'm gradually regaining my crochet passion. No big projects up to now, but I'm having fun designing some small series. The previous days I have been working with red and black. It's a colour combo that I seldom used before, but that was mainly due to a lack of materials in these colours.
These three necklaces have been crocheted in a kind of silk 'tweed'. You can see on the pictures that, again, you can wear these necklaces in several ways.