(English text below)
Het grootste gat in mijn collectie juwelen: armbandjes.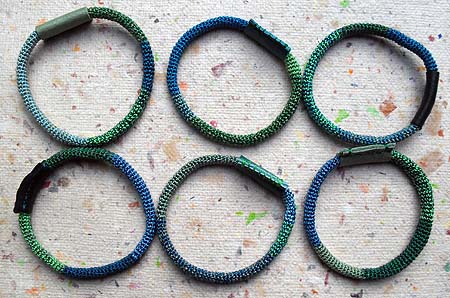 Ik draag zelf eerder uitzonderlijk een armband. En ik maak ze ook weinig. Heeft ook wel te maken met de techniciteit van een armband: je moet hem zelf aan en uit kunnen doen (bij een snoer is dat veel makkelijker) en hij moet z'n vorm ook behouden. Met het materiaal en de haaktechniek die ik gebruik, is dat laatste toch wel wat zoeken.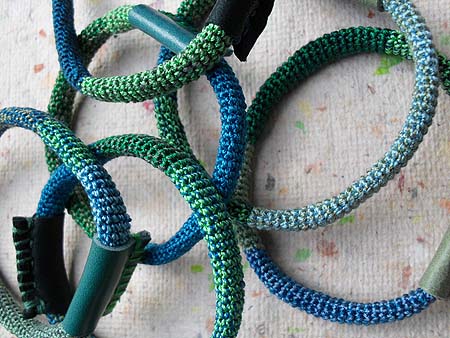 Maar ik heb wat licht gezien 😉 Deze armbandjes zijn gehaakt rond een platte elastiek .. en het werkt. Ik kan ze zelf aan en uitdoen en ze behouden hun diameter. Nog meer van dat dus … Hoewel ik ook zoekende ben een armband te sluiten met iets van leer … we'll see…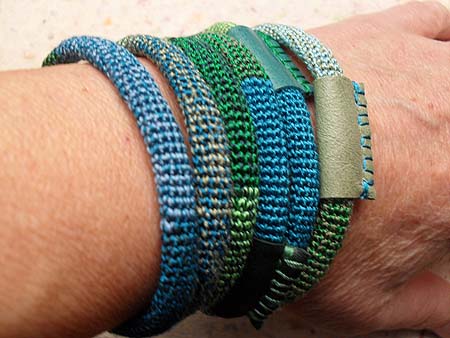 Bracelets is the biggest blind spot in my jewellery collection. I almost don't wear bracelets myself.  And for me it 's the most difficult piece of jewellery to design: it's very important that the one who wears can open and close it herself. And it is also important that it keeps its diameter, which is not evident working with silk and crochet techniques.
The bracelets you see above are crocheted around some rubber band. And it works pretty well: it turned out  easy to put them around my wrist. So, there will be more bracelets in my collection soon.