(English text below)
Met iemand gaan samenwerken is iets dat spontaan groeit. Het moet van beide kanten klikken,  eerlijk zijn en blijven. 't Is ook van belang dat je op hetzelfde niveau werkt, dat je mekaar stimuleert en grenzen doet verleggen. Eén plus één is dan meer dan twee.
Dat gevoel heb ik nog steeds bij de samenwerking met Mariemoo. Onze uitwisseling rond de Afrikaanse inspiratie is/was super. We zijn nu op een punt gekomen dat we dit willen afronden met een tentoonstelling. Die begint stilaan vorm te krijgen, de zalen zijn vastgelegd, Marie heeft een affiche ontworpen … En ook aan deze voorbereiding beleven we beiden plezier … we hebben nog een paar maanden om te genieten van dit alles, de tentoonstelling staat gepland voor mei 2011.
Beslissen van dit project rond de Afrikaanse inspiratie af te ronden was ook afscheid nemen … Maar we treuren niet. We zijn elk ook nog met eigen dingen bezig en we blijven mekaar bestoken met nieuwe ideeën.
Zoals dit bij voorbeeld: zijde en zilver, Nevousinstallezpas en Mariemoo: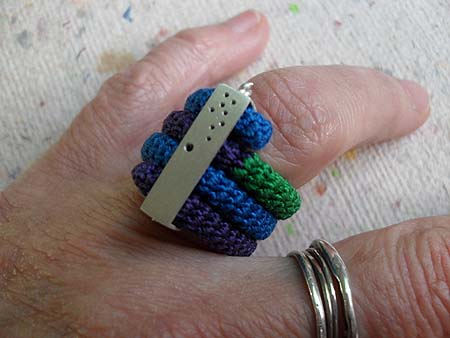 Omdat we hem allebei mooi vinden en leuk om te doen, nog meer  worstjes die richting Kortenaken gaan: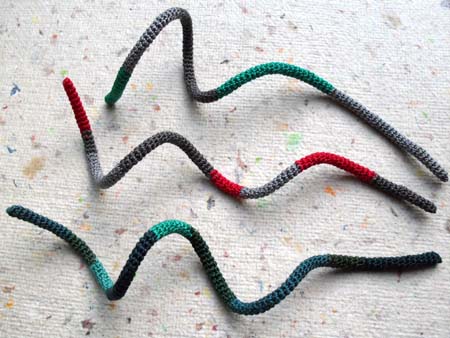 Marie's verslag over de totstandkoming van deze ring kan je hier lezen.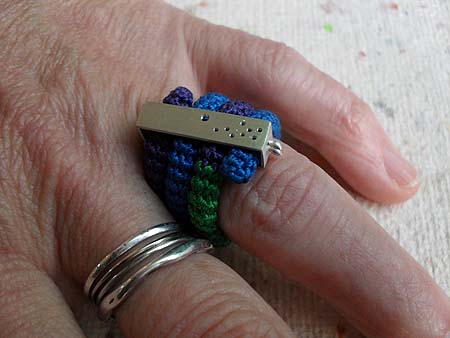 Working together with someone grows in a spontaneous way. It's important that both parties feel very happy with it, that both work on the same level, that you are honest on expectations and feedback, that both feel to be lifted on a higher  and inspiring level, …
That's how I still feel on my collaboration with Mariemoo.
We've decided to make a beautiful end to our African collection: we're preparing an exhibition in May 2011.
It is kind of saying goodbye . But we still inspire each other with other and new ideas. As you can see on the pictures above. A real cooperation: silk from Nevousinstallezpas, silver from Mariemoo.