(English text below)
Dat ik het werken met porseleinklei bij Mitsy (Artmind) leuk vond bleek reeds uit een vorig bericht. Marie (Mariemoo) vond het jammer dat ze niet op de Etsy craftparty was … dus vroeg ik aan Mitsy of zo niet een echte workshop zou willen geven, bij wijze van verjaardagscadeau voor Marie. En ze gebeurde: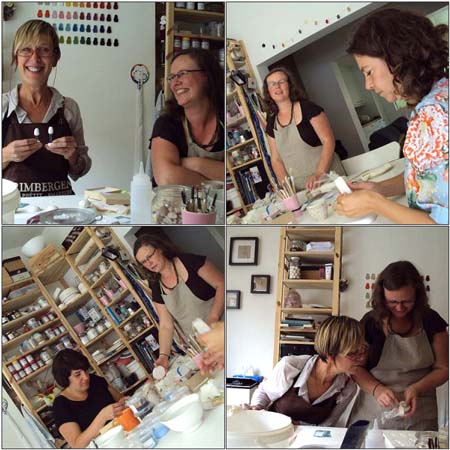 Mitsy is een goeie lesgeefster en ook een hele gulle gastvrouw. Je kan voortaan bij haar terecht voor workshops.  Een echte aanrader!  Klik hier voor de betreffende info.
Klik hier voor het verslag van Marie zelf over dit feestje. En hier lees je het verslag van Mitsy zelf.
En dit feest krijgt ook nog een leuke staart. Mitsy en ik gaan samen werken: kralen ontwerpen, broches maken waarbij porselein en haakwerk/textiel hand in hand gaan. We zijn nog volop in de experimenteerfase… wordt dus absoluut vervolgd!
Op Mitsy's blog kan je de 'geboorte' meemaken van deze samenwerking, klik hier.
Some days ago, I attended another workshop at Mitsy's place. It was in fact a birhtday present for Marie(moo).
From now on Mitsy organizes workshops. Click here for more information. Mitsy really is a good teacher and she is a very generous hostess!
Adn what's more, Mitsy and I are gong to cooperate! We want to exchange ideas and experiments on how to combine crochet work and porcelain. Please check Mitsy's blog here to read more about it.