(English text below)
Mijn blog wordt grondig gelezen, hoera!
Deze week kreeg ik van een lezeres de opmerking dat mijn inspiratiebron van AD 18 (zie vorig bericht) geen zaden zouden zijn, zoals ik vermoedde, maar wel de hoeven (tenen) van een geit. Vera stuurde mij onderstaande foto's door ter verduidelijking: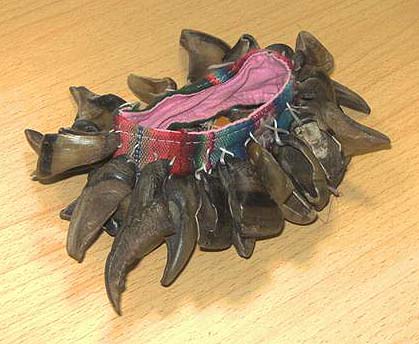 Inderdaad … nog wat google-werk en ik stootte op meerdere rammelaars waarbij deze 'tenen' worden gebruikt. Ze zijn er zowel in Afrika als in Latijns Amerika.
Op de foto's van Vera zie je de hoeven gebruikt in een arm- of enkelband ( de hoeven worden dan op een stuk stof genaaid wat gesloten wordt met een haakje of met velcro). De hoeven kunnen ook met touw aan het uiteinde van een houten stok worden bevestigd.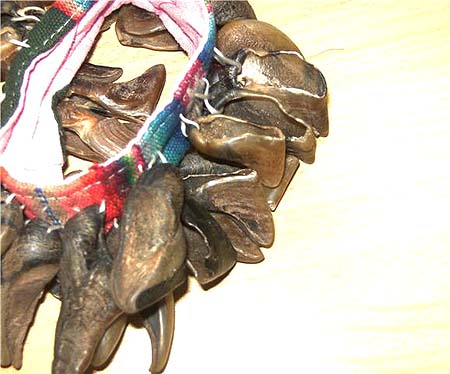 Voila, alweer iets bijgeleerd. Nu zou ik toch wel eens naar Tervuren willen terugkeren om met m'n neus tegen de vitrinekast, eens dubbel goed te kijken…
Vera, dikke merci!
This week I expercienced that my blog is thoroughly read. Hurray!
One of my readers remarked that the inspiration for my AD 18 necklace (see the previous post) are not seeds, as I thought, but probably goat toes (hoofs). Vera sent me some pictures of a percussion instrument she bought travelling through Latin America.
Googling, I found, that dried and cleaned goattoenails are indeed used to make musical intruments. Both in Africa and Latin America.
Both bracelets/anklets as rattles exist.
Thanks Vera, for your information!
p.s. En wat denken jullie hiervan? What do you think of this?

Dit is een 'togo seed rattle' .Wie wil er in Tervuren van dichtbij gaan kijken? 😉