(English text below)
Twee dagen na mekaar (21 en 22 augustus ll) workshops gegeven in Stalhille: verrijkend en ook vermoeiend. Tja, ik ben niet gewoon me een ganse dag te concentreren op mensen. En toch ook weer die verrassende stilte. Dat maak ik altijd mee als ik een workshop geef: de vrouwen staat er zelf van te kijken dat ze muisstil zitten te haken. 😉
Meteen zijn er weer wat meer juweelhaakverslaafden in Vlaanderen 😉
Ook een constante: vele van de deelneemsters zijn ook met andere technieken bezig. Zilverklei (dat lag voor de hand, want de workshop werd georganiseerd door 't Klein Idee), edelsmeedkunst, fimo, kantklossen, poppen en beren maken …
Workshops volgen als ontmoetingsmoment is er niet ongewoon en heel leuk!
De foto's kan je hier bekijken. (sorry voor de deelneemsters van vrijdag: ik heb geen foto van jullie … geheugenkaartje was vol)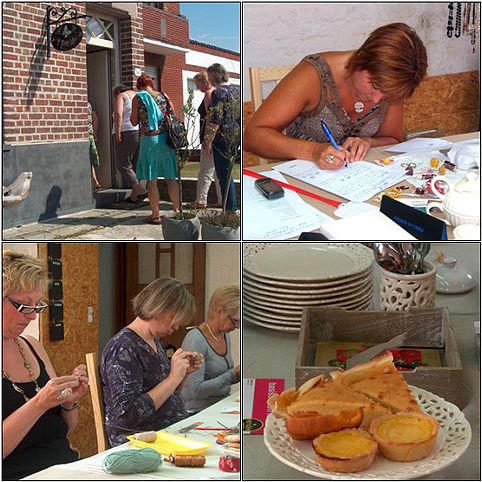 Aanleiding genoeg om de linkenpagina van mijn website aan te vullen met een nieuwe rubriek: 'Workshops' Ik probeer er de organisaties/crafters in op te nemen waar ik zelf wel iets heb gevolgd, wat mij wordt aanbevolen of doorverteld, wat de moeite waard en/of heel leuk lijkt, …
Ik ga het oplijsten wel beperken tot Vlaanderen, de afstanden zijn dan al groot genoeg. Maar voor sommigen is afstand geen punt: Rotselaar – Gent, Kapellen – Stalhille, Hasselt – Gent, … allemaal al meegemaakt. Geeft toch wel veel voldoening dat mensen zo'n afstand willen afleggen op mijn workshop te volgen. Merci dames!!!
Two weeks ago I gave two workshops at a row. It was very enriching, but also tiresome. I'm not used to concentrating on people during a whole day. But that's for sure: there are some more crochet addicts in Flanders from now on!
Most of those participants are also busy with other techniques: silverclay, goldsmithing, polymerclay, bobbin lace, doll making, … Following workshops is a way of socializing.
From now on, I have another item on my link-page : Workshops. For practical reasons of distance, I only list organizations/crafters in Flanders with whom I have done workshops myself, or what seem worthwhile.