(English text below)
Zoals beloofd, meer experimenten met nieuw materiaal: de zijdecocons!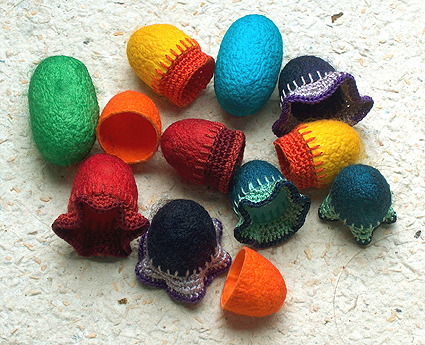 Al sinds ik ergens in de herfst van 2004 begon met deze juwelen, werk ik met pure zijde. Maar nooit waren de gemengde gevoelens rond het gebruik van dit materiaal zo nadrukkelijk als nu.
Ik ben er mij van bewust dat het gebruik van zijde, meteen ook betekent dat ik zijderupsen aan hun dood help … De rups mag namelijk niet uit haar cocon kruipen of de zijden draad is kapot. Dus worden rupsen chemisch of met heet water gedood, zodanig dat de cocon in haar volle lengte kan afgewikkeld worden.
Een zalving voor mijn geweten is het besef dat zijde sinds eeuwen wordt gebruikt voor de meest wonderbaarlijke toepassingen. Het is geschiedenis!
Sorry rupsen! Bedankt, ik haak ter ere van jullie!
De cocons dus.
Voor wie weer wil weten waar ik mijn materiaal haal : internet! Een paar seconden googelen en je vindt online winkels (Etsy en andere) waar je dit materiaal kan aanschaffen.
De cocons worden geleverd in hun geheel (met de dode rups er nog in) of met een kapje af (rups is er reeds uitgehaald). En ze zijn te vinden in veel kleurtjes, vaak handgeverfd.
Mijn eerste probeersel met deze schatten, zijn oorbellen.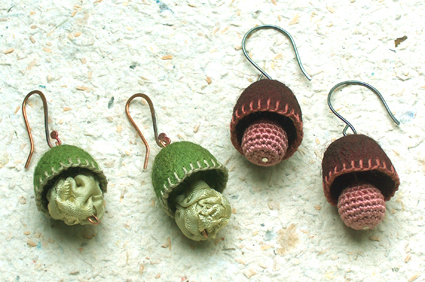 Net zoals bij die 'silk carrier rods' blijft de inspiratie komen. Dit is zo'n mooi materiaal, telkens wat anders. Miniatuurtjes…
Voorlopig beperk ik met tot oorbellen … maar ik zie ze mij ook wel gebruiken voor halssnoeren.
As promised before: more experiments with new materials: the cocoons.
I am working with pure silk thread since I started this collection of silk crocheted jewellery somewhere in the automn of 2004.
But never before I felt so confronted with the origin of this silk as with using these silk cocoons. I'm pretty well aware that I contribute to the death of these silkworms. Before getting out of its cocoon the worm is killed (in a chemical way of with hot water) , otherwise the silk thread is broken in a thousand pieces.
So, silk worms, sorry, and thanks a lot! My jewellery is dedicated to you all!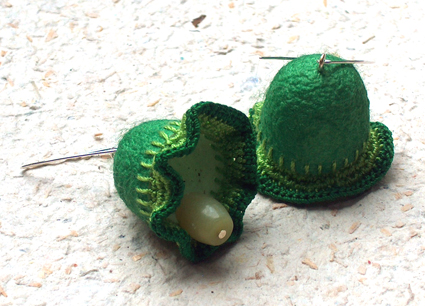 On the pictures you see some of the earrings I made with this lovely material. Every cocoon gives new inspiration. I feel like I'm making miniatures with every new design.