(English text below)
Wat een contrast: de drukte van vorig open-deur-weekend en het rustige lange één-mei-weekend dat voor de deur staat. Tot vorige maandag was alles gepland wat ik moest doen. Nu moet ik vooral nog opruimen en weer mijn oude tempo zoeken. Ik heb nauwelijks gehaakt de voorbije dagen …
Om eens wat anders te doen heb ik op onze stadskoer een paar foto's gemaakt. Aanleiding was een gesprekje met iemand: 'Wanneer spreek je van een 'tuin"? Het antwoord van mijn gesprekspartner was 'als er gras is'. En laten wij nu net geen gras hebben, maar toch wel veel ander groen: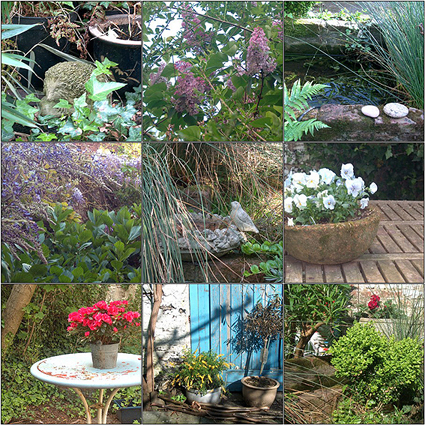 Op dit moment van het jaar is onze tuin het mooist, vind ik: de blauwe regen en de seringen staan open en geuren. Dit kan niet anders dan inspirerend werken … vanaf morgen kruip ik met haaknaald en draadjes lekker in een tuinzetel!
Aan iedereen een zonnig, rustig weekend toegewenst!!
The previous days were really very contrasting to the days around last 'open door' weekend. Then, everything was planned. Now we're at the eve of a long May 1st weekend (in Belgium this is a bank holiday) and everything is quite. There is still a lot to clean up though here in my workplace. And I even haven't crocheted the previous days … Need to find my regular rythm back.
So, wanting and feeling the need to do something else, I took some pictures in our 'garden'. That was to show to someone that even in the middle of the city centre, it can be green. My interlocutor said that one can speak of a garden, when there is grass. But, we don't have grass. Look at the pictures to see all the other green! I will be sitting in this garden the nex days .. crocheting!
Enjoy a lovely sunny weekend everyone!